I tested the Mace pepper gun and the Kimber Blaster 2. I shot both of them on paper and a dummy head. This is what I learned.
The Mace pepper gun has a long range and led light. It's canister is replaceable and it comes with a practice canister. The Kimber Blaster 2 shoots two gel blobs at more than 100 miles per hour. Gel shots from the Kimber Blaster will not be moved much by wind.
As An Amazon Associate I Earn From Qualifying Purchases 
Mace Pepper Gun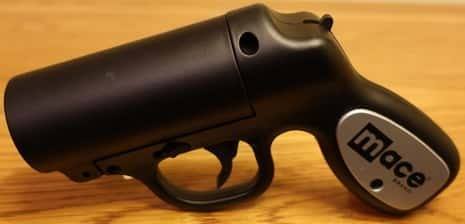 Mace's pepper gun is one of the most powerful pepper sprays on the market. It shoots a large can and it comes with a light.
The large can allows it to spray up to 20 feet. When I shot this spray, it went a long way. I think it can shoot the full 20 feet. The GIF below shows me shooting it.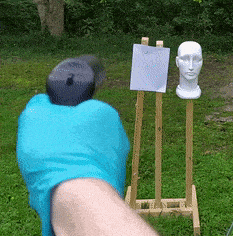 Shooting the Practice Canister
The light is plenty bright. It will illuminate out to the range of the spray. The light has two modes. It alternates between solid and strobe each time the trigger is pulled. With short trigger pulls, the light mode can be changed without firing the spray. Once a user has the desired light mode, the trigger can be pulled more to fire the spray.
The trigger, safety, and chamber open lever are easy to use.
A water practice cartridge is included. This is great for getting a feel for how to use it and building confidence.
The Mace pepper gun is large. It's about as large as my subcompact pistol. You can try carrying it in a front pocket. This might be uncomfortable especially when sitting. A holster or bag might be the best places to carry this pepper gun.
This is my favorite pepper gun.
Watch the video below to see me shoot this in day time and at night.
Mace Pepper Gun with LED - Tested and Reviewed
Pros
20 Foot Range

Dual Mode Strobe or Solid Light

Lots of Spray

Refillable

Practice Canister Included

Ambidextrous Safety
Cons
Large

Holster or Bag Might Be Needed
Conclusion:
It's long range and light make this a powerful pepper gun. If you can carry a large pepper gun, then get this spray. 
Kimber Blaster 2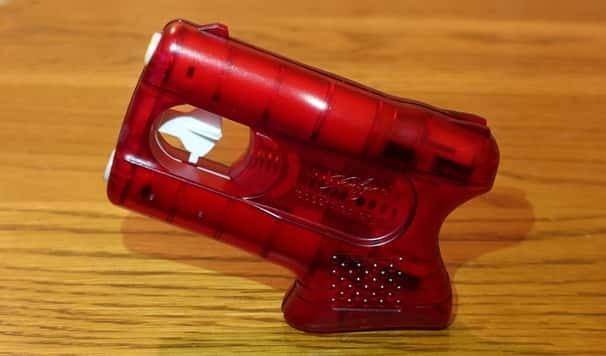 The Kimber Blaster 2 shoots it's two large, gel blobs at more than 110 miles per hour. The range is more than 13 feet. This pepper gun will fight wind better than most any other pepper shooter. The mass of the gel and the speed it moves leaves little time for wind movement. If you live in a very windy area, then stronger consider this pepper gun.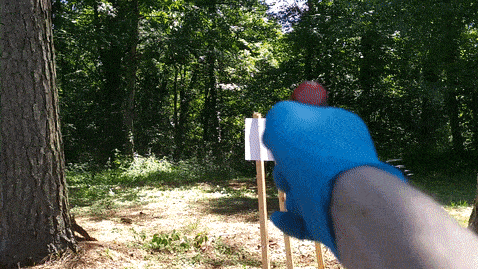 Kimber Blaster II Testing
Unlike, most other pepper gun it has a front and rear sight.
The safety is ambidextrous. Right-handed and left-handed shooters can deactivate the safety with their trigger finger.
With only two shoots, accuracy is super important. There just is not much margin for error with the Kimber Blaster 2. Conversely with a spray pepper canister, a defender can move the stream onto an attacker's face.
Also, the Kimber Blaster 2 shoots from the bottom hole first. When I tested this, my first shot was low because of this. Is someone using this spray really going to remember to aim high on the first shot? I doubt it. My second shot was more accurate because it was higher and closer to the sights.
You can watch the Blaster 2 get tested in the video below.
Kimber Blaster II - Tested and Reviewed
Pros
Front and Rear Sight

100+ Miles Per Hour Gel Blast

Low Wind Movement

Ambidextrous Safety
Cons
Only Two Shots

Bottom Charge Shoots First

Not Refillable
Conclusion:
If you live in a windy area, then consider this pepper gun.