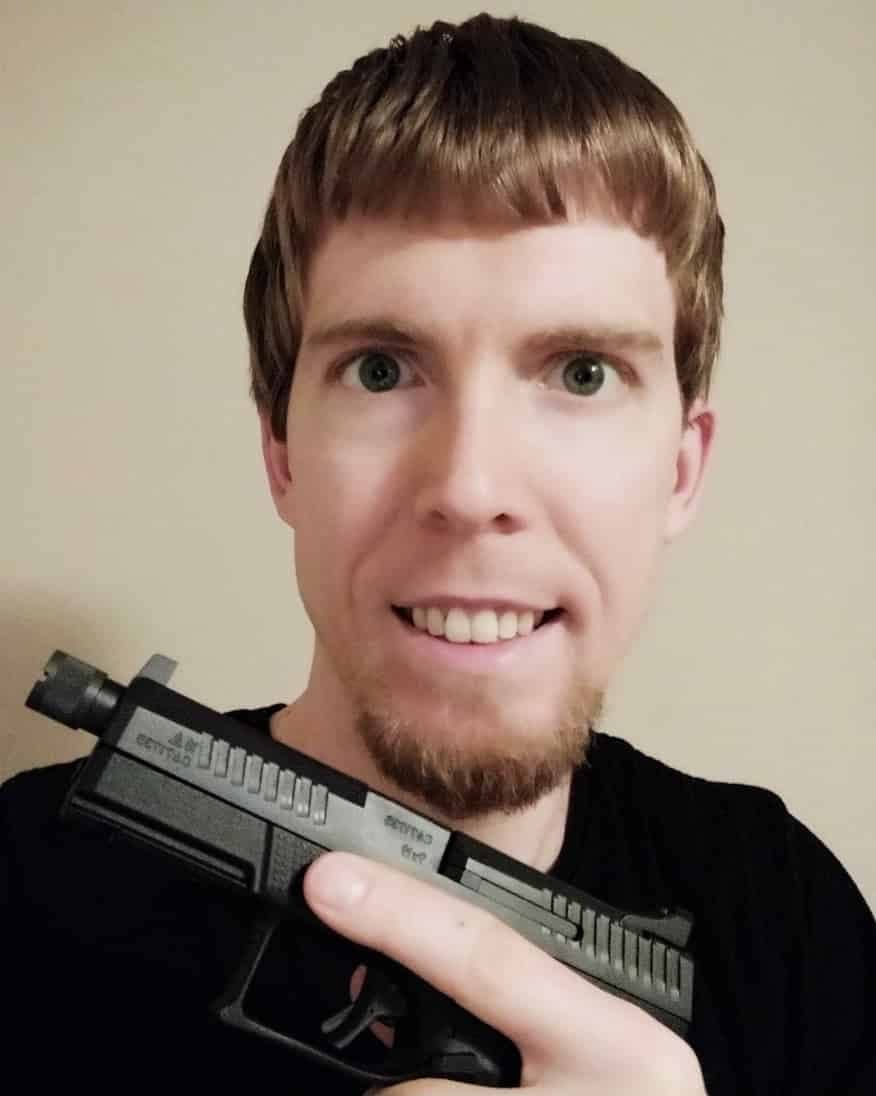 The CZ P10C, P10F, and P10S are good from the factory. These upgrades and accessories make them even better. Light and extended magazine options are here.
I made an effort rank these upgrades and accessories in order of importance.
As An Amazon Associate I Earn From Qualifying Purchases
Leather IWB Holster by Fast Gunman Holster
This is my EDC holster for my P10C. It's handmade of tightly woven leather.
The clip is all metal and it holds a belt good. There is some side play in the clip. The weight of the gun stops it from moving.
It's as comfortable as I expect a budget IWB holster to be.
A lifetime warranty is included.
The front sight of the suppressor ready models should not go through the bottom. The front sight is too high. It will catch the side of the holster if it goes through the bottom. As a result, the front sight will draw the holster and pistol together. If this happens, the holster will still be blocking the trigger and making it useless.
Low Cost IWB Holster Review
Streamlight 69265 TLR-2 and 69245 TLR-4 G
You can hit what you can't see. These Streamlight light and laser combos are excellent additions to any pistol with a rail. I recommend green lasers over red lasers. According to the NRA, green lasers are more visible in bright sunlight(source). Some folks don't like running lights because the light is a target. I strongly disagree with this logic. It's worth giving that slight advantage to an enemy to see clearly who the bullets are going to hit.
These two lights are superb. They each have 3 modes: light only, laser only, and laser and light together. The on/off switch is ambidextrous. Using your shooting finger, the switch on both sides turns these lights on or off.
The TLR-2 throws most of it's lumens through the center beam for long distance illumination. Around the center beam, a wide disbursed shot of light provides illumination for close distances. This makes the TLR-2 a light for many applications. The TLR-4 provides plenty of light for close distances applications including room clearing and urban self-defense.
These lights have a limited lifetime warranty which excludes batteries, bulbs, abuse and normal wear. Rechargeable batteries, chargers, switch, and electronics are warrantied at for 2 years.
TLR-2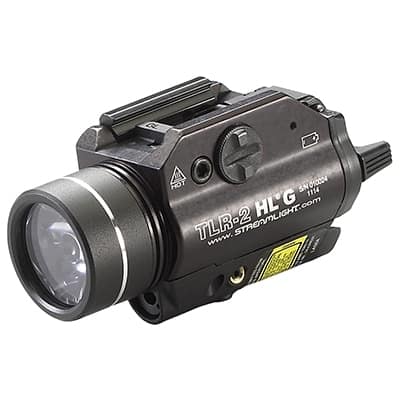 800 Lumens

4.8 ounces

$340
TLR-4
115 Lumens

2.9 ounces

$240
21 Round Magazine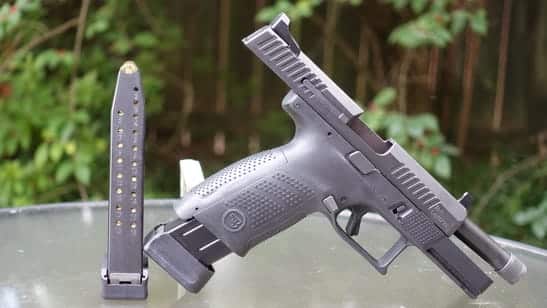 Andrew's 21 Round Magazines and P10C
Running out of ammunition in a gunfight is the stuff of nightmares. Keep your EDC pistol well fed with these 21 round normal capacity magazines.
All P10 magazines are interchangeable. These magazines will work with the P10C, P10F, and P10S.
CZ gives a 5 warranty to parts to the original purchaser.
Checkout this video to see a P10C shooting 21 round magazines.
Will a CZ P10F Magazine Work in a P10C ??
3M WorkTunes Connect Hearing Protector with Bluetooth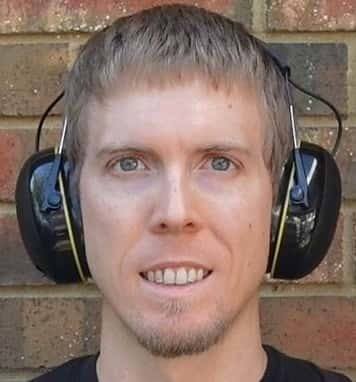 This is my favorite set of hearing protection. I bluetooth it to my phone and listen to music when I am shooting. The headband and ear cups are comfortable. I can wear this all day. The battery lasts several hours. It recharges with USB.
The NRR(Noise Reduction Rating) is 24. That's a bit low for shooting. It's best to use ear plugs and these ear muffs together for maximum hearing protection.
Trijicon RMR with Adjustable LED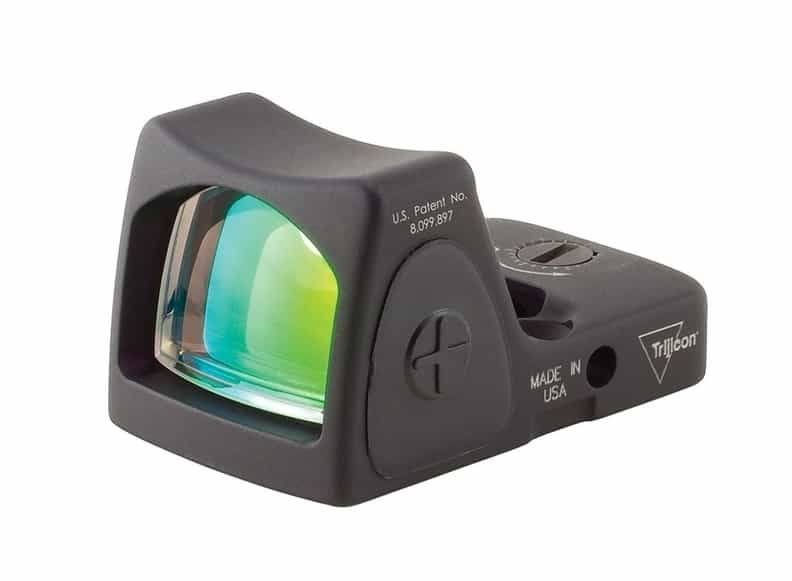 Tired of aligning the front and rear sights? Trijicon's RMR will solve this problem for you. I am being a bit sarcastic, but getting on target is faster with a RMR.
The RMR comes with legendary Trijicon reliability. RMRs are trusted by police and militaries the world over.
The battery requires removing the sight and re-zeroing. Trij says RMRs batteries last for more than 4 years of continuous use. You might want to replace the battery every year to be on the safe side.
I recommend the adjustable LED RMR. This version gives shooters full control over dot brightness. The dot is only available in red. There are 3 dot sizes available. In theory the larger the dot size the faster the eye alignment. I disagree with this logic. The RMR requires training regardless of the dot size and the small the dots size the more precise the shots.
Using the RMR does not turn a P10 into a video game gun. You will still need to practice drawing the gun. It takes muscle memory to bring the dot to the eye every time.
Extended Slide Release by Apex Tactical
The P10 slide release is very flat from the factory. This makes it out of the way of clothes and holsters. The slide release is also uncomfortable to use and requires much more effort than most modern pistols. When I drop the slide on my stock P10C, I place my thumb on top of the slide release. This is a small area. It's the roughest slide release I have used.
Apex Tactical made a great slide release upgrade. There is large, comfortable area to push down. It's also ambidextrous. 
CNC machined from steel with a melonite finish
Fits the P10 C, F, and S models
Apex Tactical has a 1 year warranty on all products.
Talon Tactical Grips
Full Disclosure: Talon sent gave me the above granulated grip texture at no charge.
There is nothing wrong with the P10 grip from the factory, but anything can be improved. Talon grips provide a large increase in traction over the factory grip texture. Granulated and rubber are the texture types. The granulated texture is the most aggressive and I like it a lot. It feels like sandpaper or skateboard tape. 
The rubber texture is best if your carry pistol's grip makes direct contact with skin. Also, shooters with soft skin should use the less abrasive rubber texture.
They are made in America with a 90 day warranty.
Osprey 45 Suppressor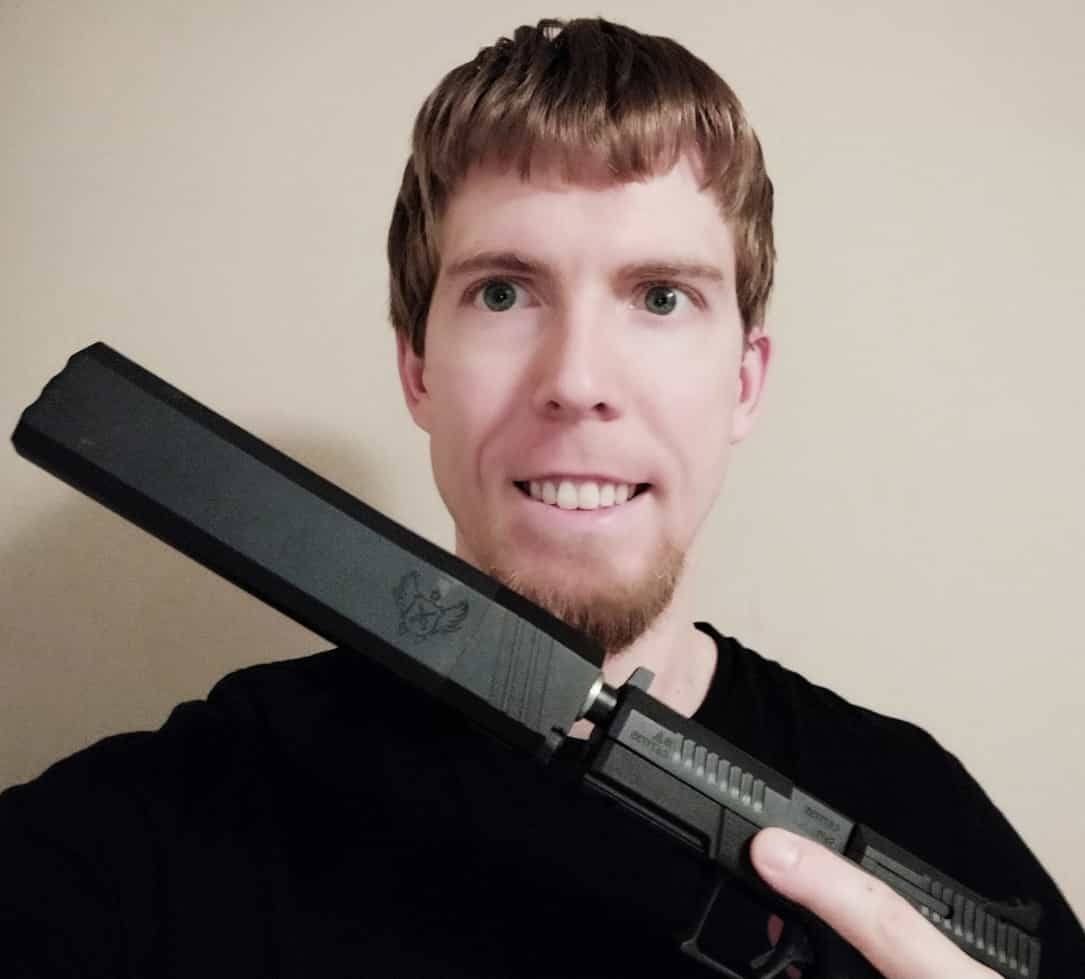 The P10 series is great and it's even greater when shooting without ear protection.
Why did I choose the Osprey 45? It's one of the quietest, I have one, and it has some great features.
The threads are on a removable piston. The allows the suppressor to fit on all common male thread sizes with a piston change.
The unique tombstone shape makes the osprey sit lower than round suppressor when attached. This reduces the height a pistol's sights need to rise above.
The Osprey 45 works with several common calibers including 45, 40, 10mm, 9mm, and subsonic 300 BLK.
Of course a suppressor does not increase the stopping power of a pistol. Concealed carrying a pistol is large, uncomfortable combo. If you do carry a suppressed pistol, then you are straight savage.
CZ P10C and Osprey 45 Suppressor Shooting!!
CZ P-10 Match Grade Barrel by Primary Arms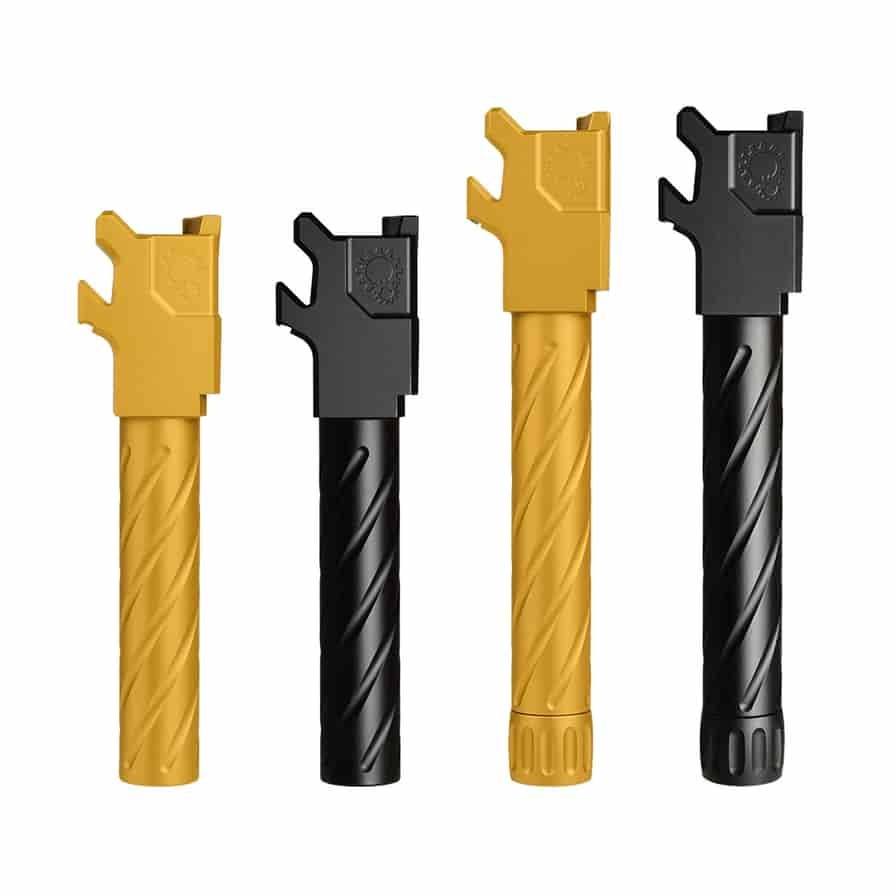 The P10C is super accurate. Having said this, the Primary Machine match grade barrel does provide a tighter group compared to the factory barrel. Primary Machine only makes these barrels for the P10C
Primary Machine makes these match barrels for the CZ P10C and P10F.
The barrel is made of 416R stainless steel. This material is great for precision machining and it allows manufacturing to very tight tolerances. The tolerances are so tight that somethings the barrel and slide require factory fitting. This is required for less than 1% of barrels. Primary Machines recommends running 300 rounds through their barrel before sending the barrel and slide for fitting. The fittings is provided free of charge.
Titanium nitride (Gold) and black nitride are the two finish colors.
Primary Arms made a comparison video between the factory CZ barrel and their match barrel. The match barrel shows much tighter groups.
HB Industries Theta Trigger Kit
That CZ P10 series trigger is the stuff of legends. Creep and stacking are basically non-existent. The factory trigger breaks at a clean 4.25 to 5.25 pounds. It has a short reset for rapid follow up shots. There's no play. That trigger lived up to the hype.
HB Industries found ways to upgrade that trigger. The Theta Trigger Kit has a 4mm reduction is pre-travel takeup. It includes a 3.5 and 3.0 pound striker spring.
Unlike the factory trigger, the theta kit trigger takes the entire safety lever into the trigger. Some shooters say with heavy use the factory trigger lever makes shooting uncomfortable.
The available colors are black, red, orange, and tungsten(silver).
Apex Tactical has a 1 year warranty on all products.
CZ P-10 Stealth Compensator from Primary Machine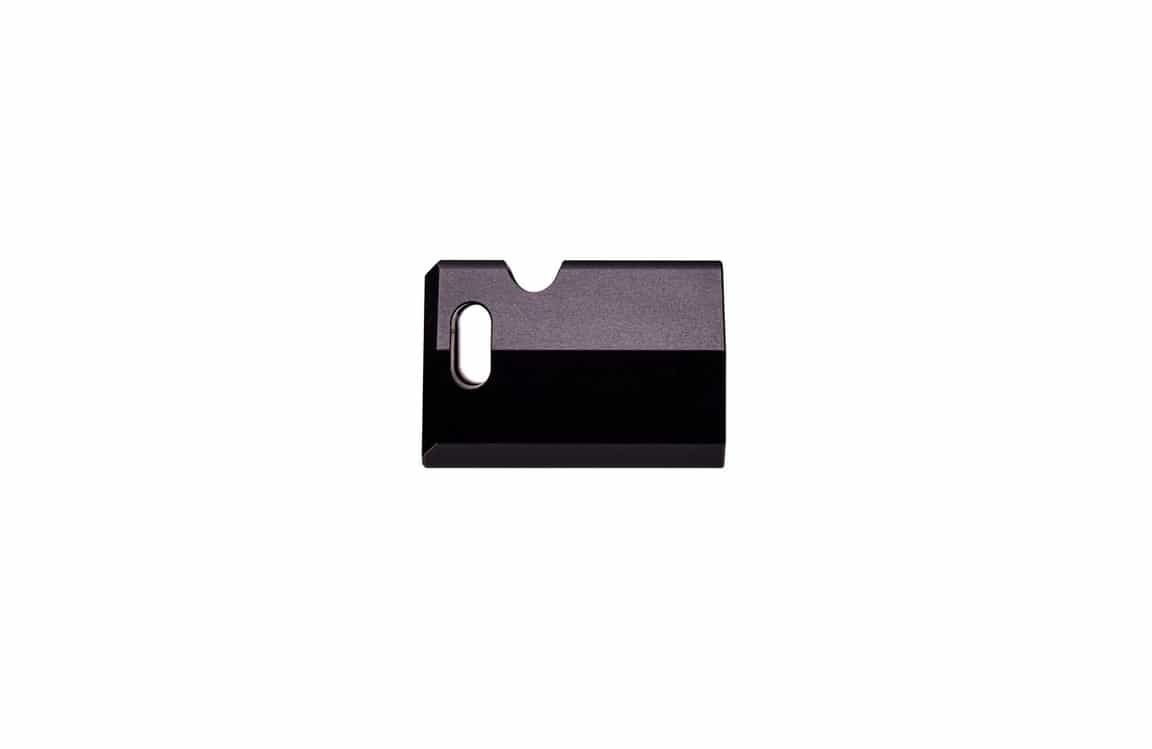 With a threaded barrel, the P10 series can be made super flat shooting with a Primary Machine compensator. It's made of aluminum. It adds about 1.3 inches to the length. It will fit open ended holsters. 
Primary Machine has "a lifetime warranty against defects that would render a part not working".
Apex Tactical Specialties Mag Release
The factory magazine release is a weak spot of the P10 series. The release button requires a direct firm push all the way down. Unlike Glocks, a thumb roll press will not release the magazine. I would have put this higher on the list, but most self-defense scenarios are not going to require reloading. Also, shooters can train themselves to commit to a firm, straight down press of the mag release.
Apex makes an improved mag release. Their mag release drops the mag with a less firm press. The Apex mag release comes in a "tactical" mag release and a longer "competition" mag release. I recommend the tactical mage release for concealed carry. It is .08 inches longer than the factory mag release. There are right and left handed versions of each mag release length. Ambidexterity is removed with the Apex mag release.
It's made of steel with a melonite coating to prevent corrosion. The flat surface has a 30 lines per inch checkered face.
Apex Tactical has a 1 year warranty on all products.
Shield Arms +5/+4 Magazine Extension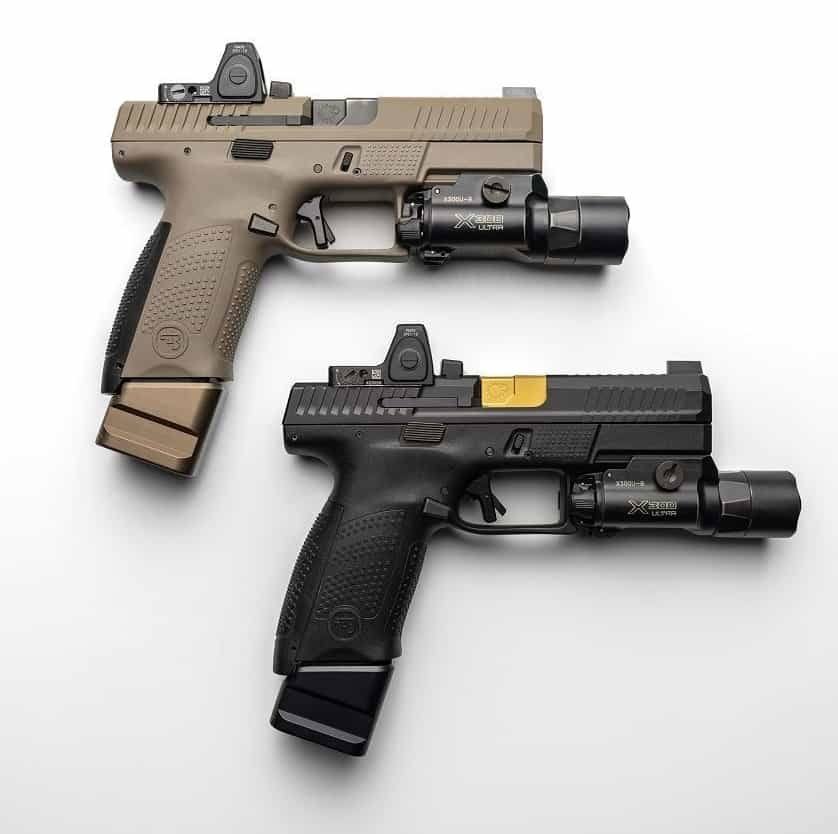 The more bullets the better, right? Shield Arms makes a sharp looking +5 extension for 9mm and +4 for 40 caliber.
The extension has index cuts in the body to increase grip. It's made in 6 colors: red, black, mud, grey, gold, urban camo cerakote. I think the red extension and a red theta trigger kit would make P10 pistols look like a dark side or sith lord weapon.
There is a trap door on the bottom. This enables the follower and spring to be removed for cleaning.
I don't recommend using these magazine for concealed carry use. It is best to only use these for practice and competitions. As a 3rd party product, it's not guaranteed to work by CZ and the magazines were not originally made for these extensions. I consider this an unnecessary risk for a defensive weapon. Stick with 21 round P10F magazines, if you want more rounds for self-defense.
It fits most aftermarket mag wells. It's made in America and comes with a lifetime warranty.
Micro Roni Stab Gen 4 with Brace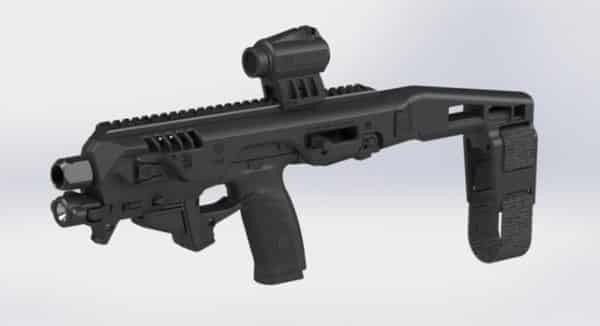 This device turns a P10C or P10F into a pistol carbine. The long picatinny rail allows you to pair your favorite red dot and backup sights. Rails on the right and left side are good places to attach other accessories.
An optional front internal light can be placed below the barrel.
The charging handle is ambidextrous.
Because it uses a pistol brace, no NFA tax stamp is required. The brace folds to the right. The gun will fire with the brace folded.
No pistol disassembly is required. The pistol drops in and locks in seconds.
CAA Industries warranties this for 10 years.