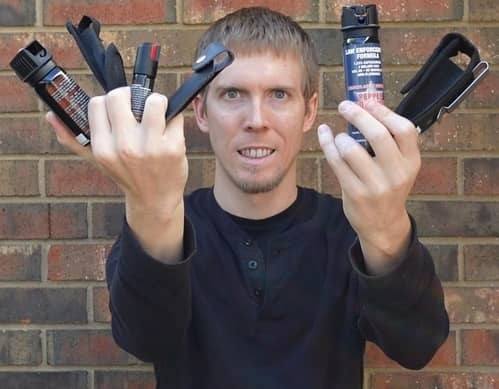 I purchased and tested 3 pepper sprays and their holsters. There is good and bad with each of them.
What pepper spray you rely on for your safety is a personal choice. Read this article find out what pepper spray features will serve you best. You can watch me test the sprays in the video below.
Watch the video to see these sprays tested and reviewed.
Pepper Sprays with Holsters - Tested and Reviewed
Guard Dog Pepper Spray Keychain with Case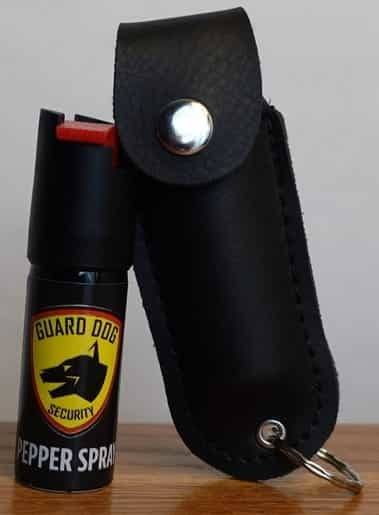 Guard Dog made a good package with this spray and holster.
The holster offers good trigger protection. It has no sharp edges and it's made of metal in the right places. The lids lock button is made of metal and the hole the key ring is through is metal too.
The spray has a 5 to 10 foot range. It's a decent range for a small spray. However, it's better to carry a larger can with a longer range if you can.
Pros
Good Holster

Decent Range

Keychain Attachable
Cons
Conclusion:
If you want to carry a pepper spray on a keychain and in a holster, then this is the pepper spray for you. I recommend the larger sprays on this list though.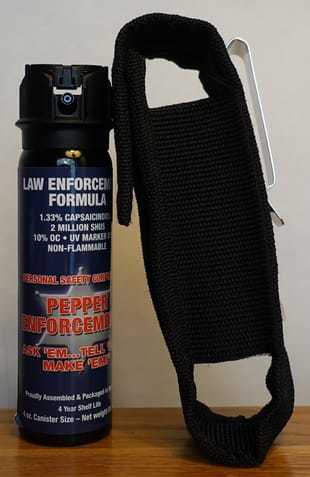 Pepper Enforcement Splatter Stream + Metal Belt Clip Holster
This is one of the best pepper sprays I have tested. It sprays a huge amount. This pepper spray could stop more than 5 attackers easily.
Also, it shoots a stream unlike any of the 22 pepper sprays I have tested. It shoots liquid droplets in a stream. This gives the spray a wide area of effect. Look at the Gif of me shooting it.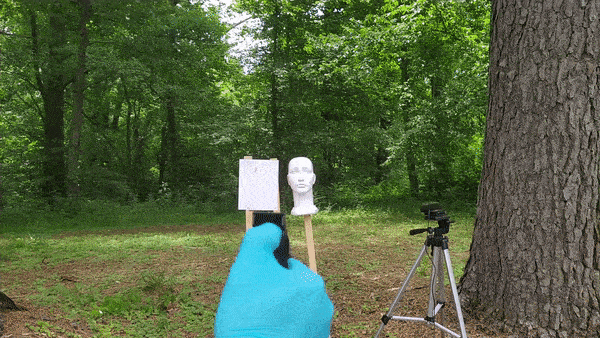 The holster is good. The can sits in the holster firmly, but still comes out easily. The belt clip is made of thick metal. The holster's lid grips the side good and comes off quickly for fast access to the can. If you want to carry a pepper spray on a belt, then this holster is a great option.
Pros
Great Range

Excellent Volume and Spray Pattern

Good Holster
Cons
Might be too big for some
Conclusion:
This is one of my all time favorite pepper sprays. If you are OK with the huge size, then this is a great pepper spray for you.
SABRE RED Tactical Pepper Gel with Belt Holster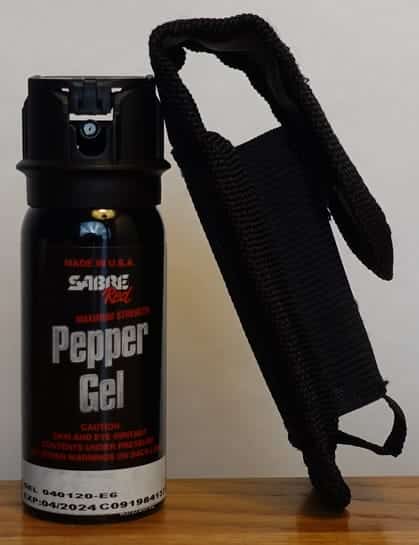 This is a very good spray. I found from my testing that it will shoot the claimed 18 foot range.
The holster works good. It will hold the can securely. The holster goes on a belt with a belt loop. Because of this, a belt must be removed to take off or put on the holster. I wish SABRE has included a holster with a metal clip. A clip holster can be taken off or put on without removing the belt.
Even though it comes with a holster, this spray will fit comfortably in a loose pocket.
If you want a pepper spray to carry in a belt holster, then this is a very good option.
Pros
Long 18 Foot Range

Wind Fighting Gel

Good Belt Holster

Pocket Carry an Option
Cons
Only Two Shots

Bottom Charge Shoots First

Not Refillable
Conclusion:
It's great for carrying in a pocket or on a belt. It's even better for users in windy areas because it shoots gel.
Pepper Spray FAQ
Why Carry Pepper Spray?
There are many reasons to carry pepper spray.
One of the most important is that it's non-lethal. Most self-defense situations involve non-deadly force aggression. As a result, a non-deadly force self-defense tool is more frequently needed than a deadly force tool.
It's a crime to use deadly force on an attacker who is using non-deadly force.
How to Use Pepper Spray?
There are two things to always do when using pepper sprays.
Pepper spray should be sprayed at one ear and to the other with a continuous stream. This will get the spray in an attacker's eyes and noise. The result will be involuntary eyelid closure and painful breathing.
Also, vertical, canister type pepper sprays should be shot using the thumb. This will insure a strong grip with 4 fingers grasping the canister. Shooting with the index finger will result in only 3 fingers gripping the can. The picture below shows the right and wrong way to hold.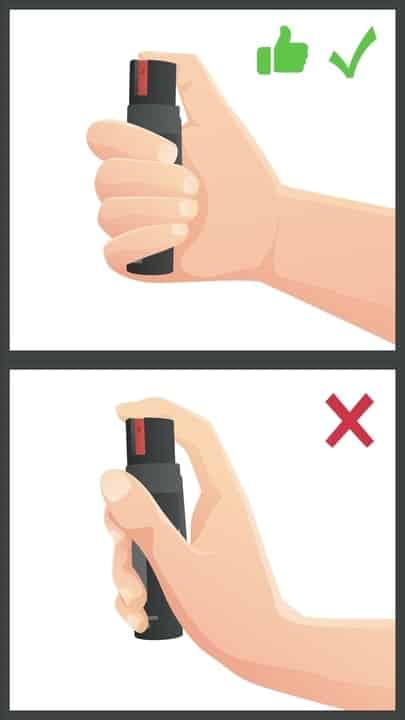 Does Pepper Spray Expire?
Yes, pepper sprays lose their effectiveness over time. They are always leaking pressure. After the expiration date, a pepper spray might not effectively shoot it's contents. To be super safe, you can replace your pepper spray a year before expiration.
Can Minors Carry Pepper Spray?
In many jurisdictions, it is legal for people under 18 to possess and use pepper spray for self-defense. For example, California permits 16 year olds to carry pepper spray in public. It is often illegal for minors to purchase pepper spray.
What's the Difference Between Mace and Pepper Spray?
Mace is a company that makes pepper sprays. Just like the word "Xerox" was used to refer to copying documents, some people use "Mace" to refer to pepper spray.