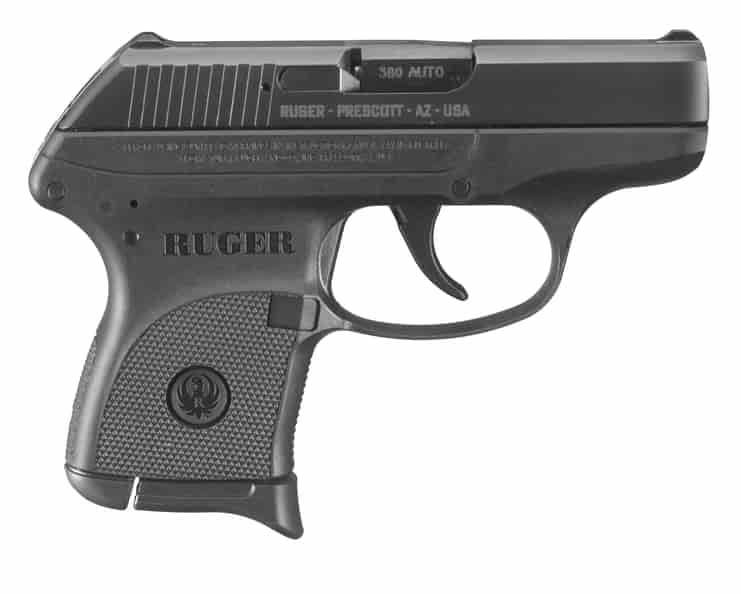 The Ruger LCP is a great, small self-defense tool. These upgrades make it even better. Laser and extended magazine options are here.
I made an effort to rank these upgrades in order of importance.
Laser Sight by LaserMax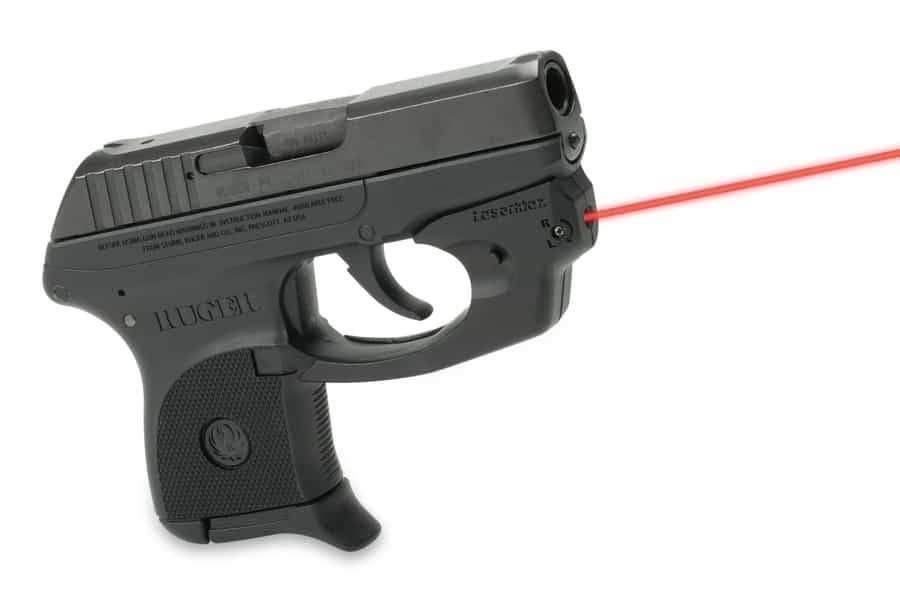 The LCP is an emergency self-defense tool. It's meant for putting rounds on target with good enough shot placement. This laser sight makes good shot placement faster than using the iron sights.
The laser is turned on or off with an index finger. It automatically turns off after 10 minutes.
Fully adjustable windage and elevation
Only weights 1/2 ounce
4+ hour battery life
5 year warranty
Ruger LCP and LaserMax laser
Techna Clip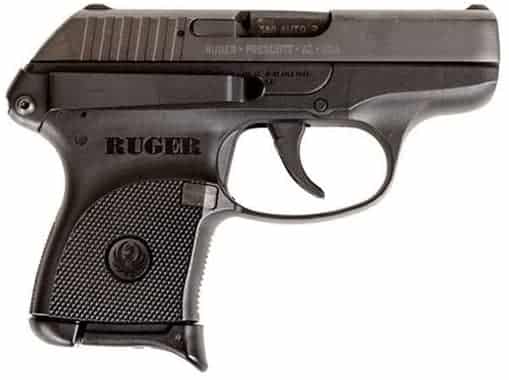 This clip is a great alternative to a holster. The clip keeps the LCP high and secure in a pocket.
Made of carbon steel
Installs with a punch, hammer, and allen wrench
30 day warranty
+1 Magazine Extension by Galloway Precision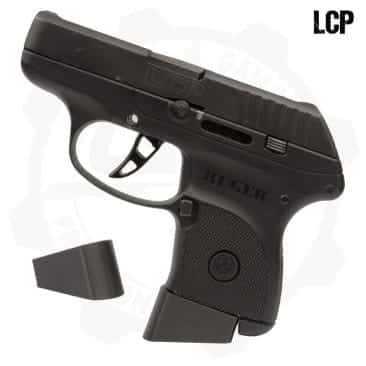 Make of Carbon Fiber and Nylon, this +1 magazine extension gives one extra chance at stopping an attacker.
Provides a comfortable place to rest the pinky
Easy to install with a .050 allen wrench
Galloway Precision has a 30 day warranty on all products.
Reduced Power Hammer Spring by Galloway Precision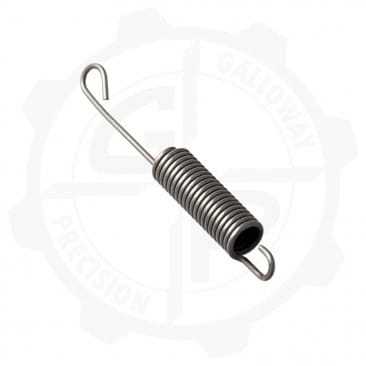 Reduces pull weight by 1.5 pounds
Requires a detail strip to replace hammer spring
Galloway Precision has a 30 day warranty on all products.
Peacemaker Short Stroke Trigger by Galloway Precision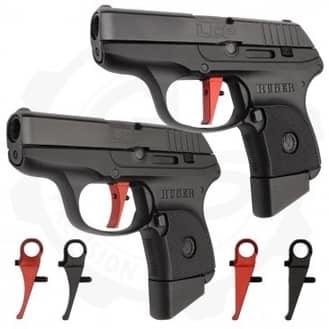 Reduces the travel past the trigger break
Offered in flat faced or semi-flat faced configuration
Made of aluminum
Galloway Precision has a 30 day warranty on all products.
Talon Tactical Grips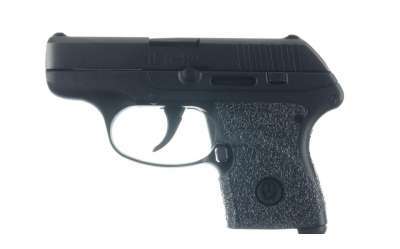 Talon grips provide a large increase in traction over the factory grip texture. Granulated and rubber are the texture types. The granulated textures feels like sandpaper or skateboard tape. This texture is best with holster carry and competition shooting. The rubber texture is best for concealed carry because it will not irritate skin. Also shooters with soft skin should use the less abrasive rubber texture.
They are made in America with a 90 day warranty.
CCW Safe Self-Defense Liability Insurance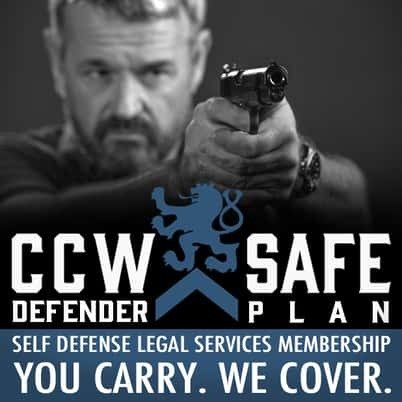 There are two types of evil people that make CCW Safe insurance a great product. Some evil people commit violent crimes and other evil people charge law abiding people with crimes for defending themselves.
Remember George Zimmerman? He shot Travon Marton with one bullet after a relentless ground and pound and being unable to stop Travon from punching and possibly killing him. By case law, fists become deadly weapons if they cannot be defended against. That did not matter those prosecuting George Zimmerman. They wanted to advance their careers by putting him in a cage for the rest of his life. Zimmerman won his legal battle at the cost of more than $2.5 million(source). 
This is what Dave Ramsey and John Lovell have to say about the huge financial cost to people who use self-defense and have to legally defend themselves.
"Estimates are in the firearms community that if you actually God forbid were to have to use your firearm and someone were to lose their life even if they were a criminal in the process of trying kill you it's probably gonna cost you a million dollars. If you have it. In defense. It's the process, becomes just unbelievable even if it's self-defense and clear cut."
– Dave Ramsey, "Should I Buy Self Defense Insurance" video
"If all of a sudden you got in some type of shooting, and the world I believe is becoming a more dangerous place. Man, the sharks will gather around you and whatever you had saved is probably going to be gone and ruined."
– John Lovell, Warrior Poet Society, "Carry Protection & Which One I Chose" video
I chose the CCW Safe as my self-defense insurance provider because it is the best. Their plans have unlimited criminal defense coverage and up to $500K bail coverage. Also, CCW Safe is the only company in this industry to successfully defend a self-defense murder 1 case. There's lots more to love about CCW Safe including coverage of pepper spray use.
Not Just Firearm Self-Defense
CCW Safe covers the use of any legally used weapon including pepper spray. This is a great feature. Pepper spray is the best legal option to stop an attacker who is not using deadly force. Also, most attackers use non-lethal force. According to the Department of Justice, simple assaults or battery(non-deadly force) threats are more than 4 more likely than deadly force threats.(source) If you don't carry pepper spray, then please do so to have a legal way to stop non-deadly force threats. I tested 22 pepper sprays and reviewed the 7 best ones. Look at that article by clicking the underlined text. 7 Great Pepper Sprays for Every Day Carry.
CCW Safe Founders
CCW Safe's founders include Mike Darter and Kyle Sweet. Kyle is an attorney and he has defended hundreds of cases in state and federal court. Mike is a former police officer. He used his experience being involved in a police shooting and a lawsuit from that shooting to create CCW Safe.
Pros
No Out-of-Pocket Cost

Bail Coverage to $500K

Unlimited Attorney and Litigation Fees

Up to $250/day loss-of-wages during trial

Appeals and Retrial Covered

Firearm Replacement During Trial

Pepper Spray Use Covered

Home and Constitutional Carry Plans
Cons
Costs $0.50 – $2.00 a day
Click the button with the right plan for you