Mace is one of the most popular pepper spray makers. Mace has been making pepper sprays for decades, and offers a large variety of pepper sprays.
I researched various aspects of Mace. This research includes what I learned from exchanging emails with Mace's sales director, Daniel Brass.
Also, I purchased and tested several Mace pepper sprays including most of the pepper sprays reviewed in this article. Mace gave me some pepper sprays to test. In the interest of full disclosure, if a pepper spray was given to me, then I will state that at the top of the review. This is what I learned from my research.
Mace brand pepper sprays are good. Mace has a long history of selling effective pepper sprays. Mace's quality control insures only reliable pepper sprays are sold to consumers. Also, Mace makes a large variety of pepper sprays to meet the diverse needs of it's customers.
Mace's History of Making Great Pepper Sprays
The company that produces "Mace" brand pepper sprays was founded as Mace Chemical. It was founded by Allan Lee Litman and his wife Doris Litman in the 1960s. Allan and Doris developed a defensive spray after Doris's female colleagues were robbed. The original formula was made of CN tear gas. Now, all mace sprays contain the pepper spray chemical, oleoresin capsicum(OC). Some Mace sprays contain tear gas in addition to OC.
Mace Chemical was purchased by Smith and Wesson in 1987. Mace chemical along with all of Smith and Wesson's chemical division were spun off from Smith and Wesson. Mace is now fully independent. Mace Chemical is now named "Mace Security International". In addition to pepper spray, Mace's products include stun guns and personal alarms.
Mace's Non-Profit Ventures
While Mace is a for profit company, Mace does not solely focus on for-profit ventures. Mace donates pepper sprays to a different non-profit every month.
Also, Mace's "KUROS" initiative is another Mace non-profit venture. The KUROS mission provides free pepper sprays and education to at-risk women globally. KUROS is funded by the sale of a light blue pepper spray and personal alarm.
Quality Control and Product Testing
Quality control is one of the most important things a pepper spray maker must get right. Mace puts a lot of focus on quality control. Mace tests each batch of pepper spray liquid before it goes into a pepper spray canister. This testing is high performance liquid chromatography or HPLC. HPLC separates, identifies, and quantifies each component in the liquid. This type of testing measures major capsinoids in the solution. Mace considers this testing method superior to measuring pungency with the Scoville Scale.
Mace relies on outsourced HPLC testing. Each batch of Mace liquid is tested with HPLC by the supplier. The liquid is tested a second time by an independent lab.Mace calls this "double verification" or "HPLCx2".
After contacting one of Mace's sales director, Daniel Brass, I learned more about Mace's quality control. This information is not from Mace's website. It's from an email I got from Dan.
In addition to the pepper spray liquid testing, Mace does various types of in-house testing. These tests include the following.
Test firing all pepper guns with water cartridges

Testing firing all "flip top" pepper sprays

Random sample testing of all sprays and gels that are in Mace's direct control.

All stun guns are tested to make sure the flashlight works and that they spark.
Flip Top Safeties, Not Twist Lock Safeties
Unlike other companies, Mace only sells pepper sprays with flip top safeties. Flip top safeties don't have the accidental safety deactivation problem that twist lock safeties have. I used to carry a pepper spray with a twist lock safety. I often saw the safety halfway or totally deactivated. Also, I let a friend borrow a twist lock pepper spray. He returned it to me with the safety off. Twist lock safeties get turned off without user input because of normal movement of pepper spray. Whether in a pock, on a key chain, bag, or purse the twist lock lever can get moved off with normal body movements. When a twist lock safety is off, there is a risk of an accidental discharge.
Mace's flip top safety pepper sprays do not have this problem. Normal body movements cannot deactivate them. A user must intentionally lift the safety with their thumb to expose the trigger.
This is a video from Mace showing the benefits of flip top safeties.
I am afraid I will spray myself with pepper spray
Innovative Design
Exclusively using flip top safeties is not the only example of Mace's excellent product design. Mace brand pepper sprays also get other things very right.
Many Mace pepper sprays feature a finger grip in the front of the pepper spray. The back of these peppers is smooth and curved because of the exposed canister. The difference in the feeling between the back and front lets a user know even in low light where to pepper spray is pointing.
Two different Mace pepper sprays have unique and super helpful lights built in. These are the Pepper Gun 2.0 and the Night Defender. The Night Defender is a vertical style pepper spray with an LED light. The light turns on with the safety is lifted. I tested this light outside at night. It throws plenty of light out to the effective range of the spray.
The Pepper Gun 2.0 also has a LED light. It turns on when the trigger is pulled. The light has two modes: solid and strobe. Another good thing about the pepper gun 2.0 is the user replaceable canisters. This always for practice with either a hot OC canister or an inert water canister.
Good Mace Pepper Sprays
Mace makes several good pepper spray. I bought several of their pepper sprays and Mace gave me other models to test and review. The 5 pepper sprays at the top are all good options. My reviews of these 5 sprays are below.
Mace Pepper Gun 2.0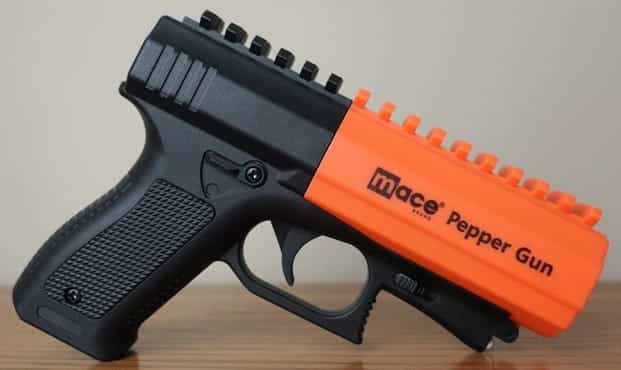 Full Disclosure: Mace gave me this pepper gun at no charge.
Mace's pepper gun is one of the most powerful pepper sprays on the market. It shoots a large can and it comes with a light.
The large can allows it to spray up to 20 feet. When I shot this spray, it went a long way. I think it can shoot the full 20 feet. 
The light is plenty bright. It will illuminate out to the range of the spray. The light has two modes. It alternates between solid and strobe each time the trigger is pulled. With short trigger pulls, the light mode can be changed without firing the spray. Once a user has the desired light mode, the trigger can be pulled more to fire the spray.
The trigger, safety, and chamber open lever are easy to use.
A water practice cartridge is included. This is great for getting a feel for how to use it and building confidence.
The Mace pepper gun is large. It's about as large as my subcompact pistol. You can try carrying it in a front pocket. This might be uncomfortable especially when sitting. A holster or bag might be the best places to carry this pepper gun.
Pros
20 Foot Range

Dual Mode Strobe or Solid Light

Lots of Spray

Refillable

Practice Canister Included

Ambidextrous Safety
Cons
Large

Holster or Bag Carry Solution Might Be Needed
Conclusion:
It's long range and light make this a powerful pepper gun. If you can handle the inconvenience of a large pepper gun, then get this spray.
Mace Night Defender

My umbrella light is reflecting off the can
I really like this spray. The light is one of the most practical and over looked features a pepper spray can have.The range is good. The package says it has an 18 foot range. When I tested this, I found it would go the full 18 feet. The light reaches the effective range of the spray. You can see the spray being testing in daytime and nighttime in the video.The spray is transparent. It would be better if it had color. That would make it easier to aim and see it on a target.The safety goes up easy. The trigger has ridges on top. This gives the trigger traction and makes it feel like nothing else on the spray. As a result, it is easy to grab and place a finger on the trigger without looking at it.This spray is on the big size. It might be a tad uncomfortable in a front pocket. Consider off-body carry or getting a holster for it.This is one of my favorite every day carry pepper sprays. I have tested more than 22 pepper sprays and this is a top tier spray.
Pros
Long 18 Foot Range

Bright Light

Wind Fighting Gel
Cons
Conclusion:
This is a great pepper spray for low light self-defense. It's also a good option if you are in a windy area.
Triple Action Pepper Spray
Full Disclosure: Mace gave me this pepper spray at no charge.
This is a great little pepper spray. In addition to OC, it also has tear gas. Tear is a good addition because some people get little to no effect from OC. Like other pepper sprays with tear gas, the spray is clear.
It has a good flip top safety.
It can be attached to a key chain.
Pros
Good Range

Convenient Size

Tear Gas

Keychain attachable
Cons
On the Small Side

Clear Spray
Conclusion:
This small pepper spray is a convenient self-defense tool. It's one of the best in this size.
Sport Model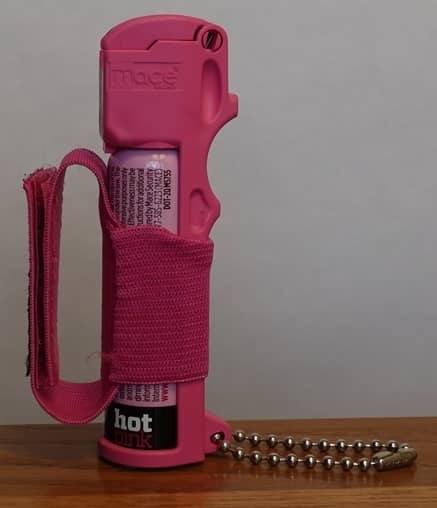 This pepper spray is a good balance between comfort and effectiveness. It has enough juice for at least 2 assailants. You can see the spray getting used in the video. 
The wrist strap is good. It holds a wrist and the spray well. It's not the most comfortable thing, but neither is it uncomfortable. I would feel confident jogging with this for miles. The spray easily comes out of the strap.
The safety is easy to lift. A toddler could lift the safety so keep this spray away from children. It's not child proof.
It's also available in black.
Pros
Cons
Big for a runner's pepper spray
Conclusion:
It's an excellent pepper spray for running or other outdoor activity.
Police Model

This is one of the best pepper sprays I have tested. It has tear gas, a good range, great belt clip, and the option to attached to a keychain.
Some people are not affected by the OC pepper spray chemical. With tear gas, there are two powerful chemicals helping someone defend themselves.
The built-in belt clip works perfectly. It has an angled tooth. Here is a picture of the tooth.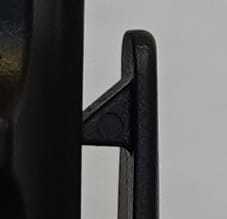 A belt slides through the tooth without effort. Once on a belt, the clip's tooth prevents the spray from coming off the belt. To remove the spray from the belt, it just takes a good firm pull of the spray.
It can be attached to a key chain. This would add a lot of mass to a key chain. You might like this though especially if you aren't wearing this spray on a belt.
It shoots a clear spray. It looks like water. This makes aiming while spraying more difficult than it should be. It also makes it harder to see the spray on an attacker's face. Many other pepper sprays shoot colored spray, and this model should do that too.
Pros
Good Size and Range

Excellent Belt Clip

Tear Gas included

Key chain Attachable
Cons
Conclusion:
An very good pepper spray for belt or keychain carry
Magnum 3

Full Disclosure: Mace gave me this pepper spray at no charge.
This a great pepper gel spray for belt carry. The range is 15 to 20 feet which is excellent.
The flip top safety and trigger are perfect.
If you want to carry a pepper spray on a belt, then strongly consider this spray.
Pros
15 to 20 foot Range

Excellent Belt Clip

Wind Fighting Gel

Orange Colored
Cons
Conclusion:
A very good pepper spray for belt carry.