I purchased and tested 5 popular keychain attachable pepper sprays. There is good and bad with each of them.
What pepper spray you rely on for your safety is a personal choice. Read this article find out what pepper spray features will serve you best. You can watch me test the sprays in the video below.
Watch the video to see these sprays tested and reviewed.
Keychain Pepper Sprays - Tested and Reviewed
SABRE Keychain Pepper Spray with Quick Release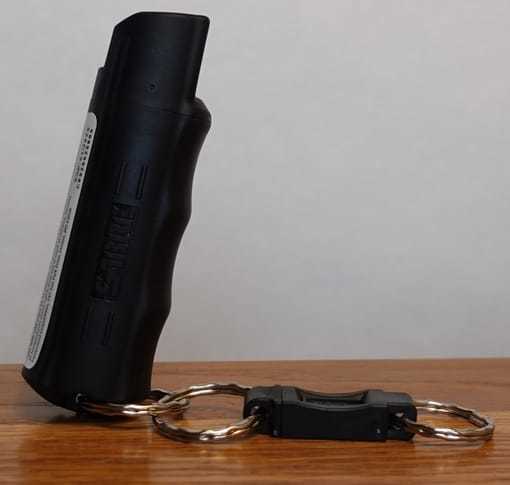 It feels good in hand. It has finger grooves. I've used pepper sprays without finger grooves and they work just fine. Having said that, these finger grooves work and they are not in the way.
The range is 8 to 10 feet. That's good enough for every day carry.
The keychain attachment is good. It has a release button. Pushing the button and pulling on the spray will release it.
The safety and trigger work as they should. They both have some resistance, but will move for any adult.
It shoots an orange spray. That color helps with aiming and seeing the spray on a target.
Pros
Quick Release Keychain Attachment

Decent Range

Orange Spray
Cons
Conclusion:
If you must keep a pepper spray on a keychain, then this is a great pepper spray for you.
Mace Police Model with Tear Gas

This is one of the best pepper sprays I have tested. It has tear gas, a good range, great belt clip, and the option to attached to a keychain.
Some people are not affected by the OC pepper spray chemical. With tear gas, there are two powerful chemicals helping someone defend themselves.
The built-in belt clip works perfectly. It has an angled tooth. Here is a picture of the tooth.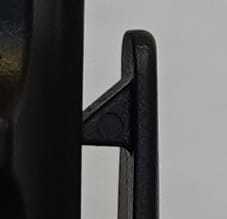 A belt slides through the tooth without effort. Once on a belt, the clip's tooth prevents the spray from coming off the belt. To remove the spray from the belt, it just takes a good firm pull of the spray.
It can be attached to a keychain. This would add a lot of mass to a keychain. You might like this though especially if you aren't wearing this spray on a belt.
It shoots a clear spray. It looks like water. This makes aiming while spraying more difficult than it should be. It also makes it harder to see the spray on an attacker's face. Many other pepper sprays shoot colored spray, and this model should do that too.
Pros
Good Size and Range

Excellent Belt Clip

Tear Gas Included

Keychain Attachable
Cons
Conclusion:
An very good pepper spray for belt or keychain carry
Mace Mini Model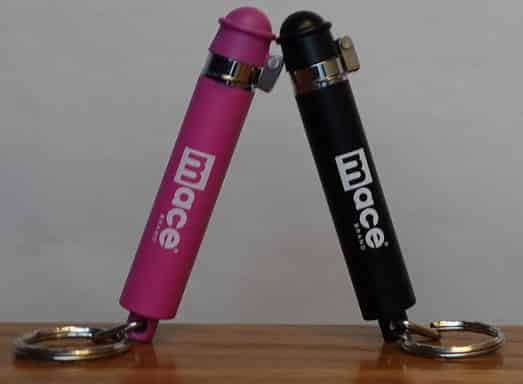 This little pepper spray is a good pepper spray to put on a keychain. It's super small.
There is a tab below the cap and on the opposite side of spray hole. The tab lets a user get this spray ready to use without looking at it. This spray could be ready to use in a pocket without anyone seeing it.
The range is very short. It's about 3 to 5 feet. That's as far as a can this small is going to go. This puts a user within grabbing distance of an attacker.
Because this spray's range is so short, I recommend only using it as a backup to a larger pepper spray.
Pros
TIny

Keychain Attachable

Orientation Tab
Cons
Very Short Range

Very Little Spray
Conclusion:
If you must have a tiny pepper spray, then this is a good option.
Mace Sport Model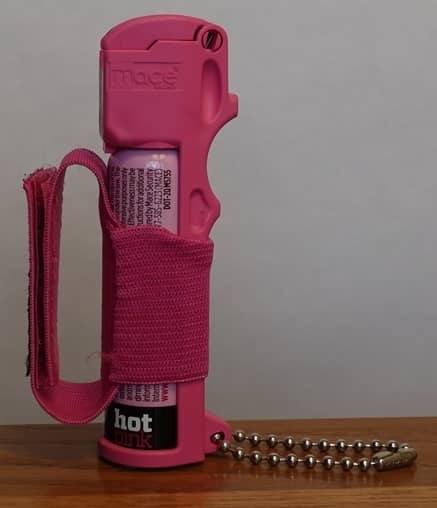 This pepper spray is a good balance between comfort and effectiveness. It has enough juice for at least 2 assailants. You can see the spray getting used in the video.
The wrist strap is good. It holds a wrist and the spray well. It's not the most comfortable thing, but neither is it uncomfortable. I would feel confident jogging with this for miles. The spray easily comes out of the strap.
The safety is easy to lift. A toddler could lift the safety so keep this spray away from children. It's not child proof.
This spray is part of Mace's "empower" brand of products. Mace donates some of the purchase price of this spray to domestic violence awareness and prevention.
Pros
Good Wrist Holster

Good Range

Donation for Domestic Violence Prevention
Cons
Big for a wrist pepper spray
Conclusion:
It's an excellent pepper spray for runners.
Smart Mini Pepper Spray by Plegium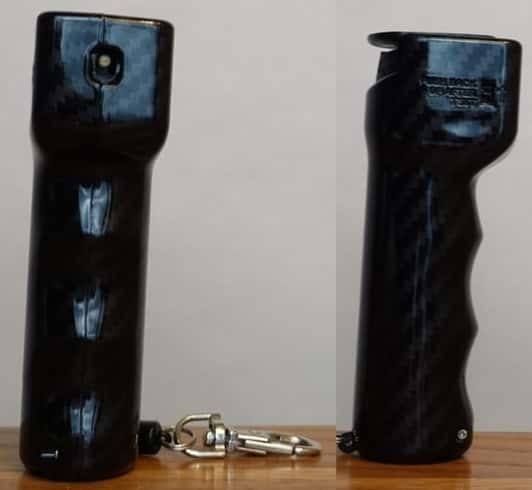 The keychain attachment is excellent. The pepper spray can be removed by separating the magnets. The magnets are neodymium and they are super strong. This is the best quick release solution I have seen on a pepper spray.
The range is 10 feet. That's a long enough range. It is enough to keep an attacker out of arms reach.
This spray will also automatically send a location text message and robo call when the trigger is pressed. It bluetooth connects to a smart phone and the Plegium app. The contacts that are put in the app will get an automated call and text with the location the pepper spray was used. I can see this being helpful if someone close by can be alerted to come help the user. A college student could put the phone numbers of campus police in the Plegium app. Campus police might be close enough to make a difference.
There is a red light that flashes with the trigger is pressed. I think this is supposed to get the attention of the target and have their face pointed at the spray.
It's priced at about $27. That's more than double the cost the excellent Mace sprays on this list.
Pros
Excellent Quick Release Keychain Attachment

Location Text and Call Alert

Good Range
Cons
Conclusion:
If you can benefit from the automated text and call feature, then this is the spray for you.
Pepper Spray FAQ
Why Carry Pepper Spray?
There are many reasons to carry pepper spray.
One of the most important is that it's non-lethal. Most self-defense situations involve non-deadly force aggression. As a result, a non-deadly force self-defense tool is more frequently needed than a deadly force tool.
It's a crime to use deadly force on an attacker who is using non-deadly force.
How to Use Pepper Spray?
There are two things to always do when using pepper sprays.
Pepper spray should be sprayed at one ear and to the other with a continuous stream. This will get the spray in an attacker's eyes and noise. The result will be involuntary eyelid closure and painful breathing.
Also, vertical, canister type pepper sprays should be shot using the thumb. This will insure a strong grip with 4 fingers grasping the canister. Shooting with the index finger will result in only 3 fingers gripping the can. The picture below shows the right and wrong way to hold.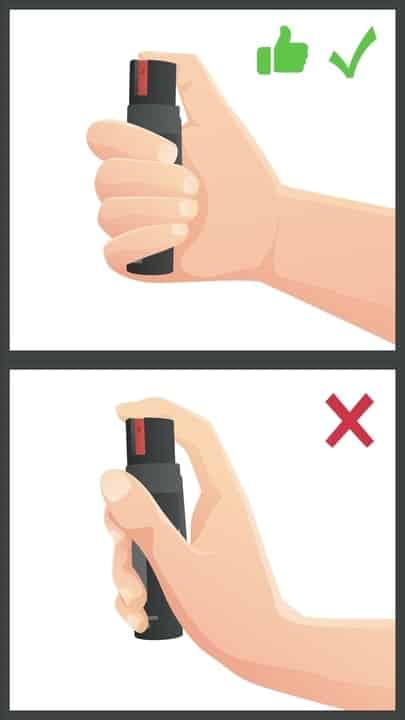 Does Pepper Spray Expire?
Yes, pepper sprays lose their effectiveness over time. They are always leaking pressure. After the expiration date, a pepper spray might not effectively shoot it's contents. To be super safe, you can replace your pepper spray a year before expiration.
Can Minors Carry Pepper Spray?
In many jurisdictions, it is legal for people under 18 to possess and use pepper spray for self-defense. For example, California permits 16 year olds to carry pepper spray in public. It is often illegal for minors to purchase pepper spray.
What's the Difference Between Mace and Pepper Spray?
Mace is a company that makes pepper sprays. Just like the word "Xerox" was used to refer to copying documents, some people use "Mace" to refer to pepper spray.