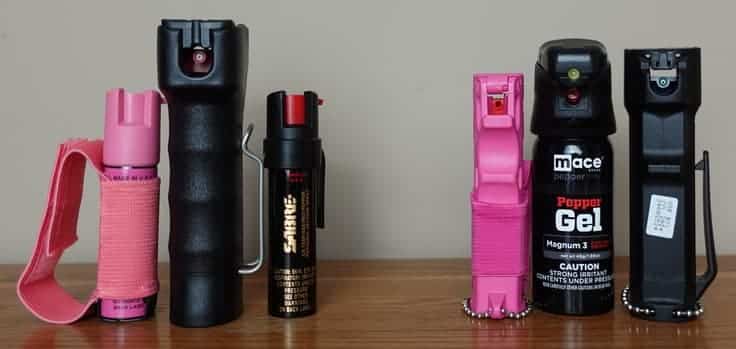 Mace and Sabre are two of the most popular makers of pepper sprays. Each company has been making pepper sprays for decades, and offers a large variety of pepper sprays.
I researched various aspects of each company. This research includes what I learned from exchanging emails with Mace's sales director Daniel Brass and Sabre customer service.
Also, I purchased and tested several Mace and Sabre pepper sprays including most of the pepper sprays reviewed in this article. Mace and Sabre gave me some pepper sprays to test. In the interest of full disclosure, if a pepper spray was given to me, then I will state that at the top of the review.
After researching both companies and testing their pepper sprays, I learned the following.
Mace and Sabre Red brand pepper sprays are good. Mace and Sabre both has a long history of selling effective pepper sprays. Their quality control insures only reliable pepper sprays are sold to consumers. They each offer a large variety of pepper sprays.
Overview of Mace Security International
The company that produces "Mace" brand pepper sprays was founded as Mace Chemical. It was founded by Allan Lee Litman and his wife Doris Litman in the 1960s. Allan and Doris developed a defensive spray after Doris's female colleagues were robbed. The original formula was made of CN tear gas. Now, all mace sprays contain the pepper spray chemical, oleoresin capsicum(OC). Some Mace sprays contain tear gas in addition to OC.
Mace Chemical was purchased by Smith and Wesson in 1987. Mace chemical along with all of Smith and Wesson's chemical division werespun off from Smith and Wesson. Mace is now fully independent. Mace Chemical is now named "Mace Security International". In addition to pepper spray, Mace's products include stun guns and personal alarms.
Mace's Non-Profit Ventures
While Mace is a for profit company, Mace does not solely focus on for-profit ventures. Mace donates pepper sprays to a different non-profit every month.
Mace's "KUROS" initiative is another Mace non-profit venture. The KUROS mission provides free pepper sprays and education to at-risk women globally. KUROS is funded by the sale of a light blue pepper spray and personal alarm.
Overview of SABRE Security Equipment Corporation
Sabre was founded by Larry Nance in 1975. In the early years, Larry focused on producing CS tear gas defensive sprays. In 1985 Sabre began developing OC pepper sprays and in 1991 SABRE started selling SABRE Red pepper sprays.
Sabre's produces several types of self-defense products. These include pepper sprays, stun guns, personal alarms, and home security systems.
Quality Control and Product Testing
Quality control is one of the most important things a pepper spray maker must get right. Both Mace and Sabre put a lot of focus on quality control. They each use pepper spray liquid that is tested before it goes into a pepper spray canister. The process they use is high performance liquid chromatography or HPLC. HPLC separates, identifies, and quantifies each component in the liquid. This type of testing measures major capsinoids in the solution. Sabre and Mace both consider this testing method superior to measuring pungency with the Scoville Scale.
Although Mace and Sabre both test their liquids with HPLC, Sabre does this testing with it's own in-house lab.
Mace relies on outsourced HPLC testing. Each batch of Mace liquid is tested with HPLC by the supplier. The liquid is tested a second time by an independent lab.Mace calls this "double verification" or "HPLCx2".
After contacting one of Mace's sales director, Daniel Brass, I learned more about Mace's quality control. This information is not from Mace's website. It's from an email I got from Dan.
In addition to the pepper spray liquid testing, Mace does various types of in-house testing. These tests include the following.
Test firing all pepper guns with water cartridges

Testing firing all "flip top" pepper sprays

Random sample testing of all sprays and gels that are in Mace's direct control.

All stun guns are tested to make sure the flashlight works and that they spark.
I am giving the win to Mace because it's spray liquid is tested 2 times.
Winner: Mace
Return Policy
The following only applies to pepper sprays purchased directly from the official Mace and Sabre web stores.
Mace accepts returns within 30 days of purchase. Returns can be made for any reason and return shipping is free. Even non-defective products can be returned at no cost to the buyer. After inspecting the returned items, Mace will issue a refund within 48 hours. Mace's return policy doesn't even mention exchange, replacement, or store credit. A cash refund is the only option which is great.
Sabre's return policy is more complicated than Mace's return policy. Sabre gives 30 days from the receipt of an order to return non-defective pepper sprays. The time window to return a defective pepper spray is 30 days from the date of purchase. This means there is more time to return a non-defective than a defective product. I don't know why Sabrepicked two different time windows. Sabre offers free return shipping for defective products.
Because Mace offers free return shipping for both non-defective and defective products, it's getting the win here.
Winner: Mace
Customer Education and Training
Sabre has a good blog and Youtube channel. They are good sources of helpful information.
Sabre also offers two comprehensive personal safety courses. They are the Civilian Safety Awareness Program and the College Safety Program. These a provided by Sabre's approved independent instructors.
The Civilian Safety Awareness Programs teaches the following.
How to discourage dangerous threats

Way to identify and avoid potentially dangerous situations

Protection at a safe distance

How to use Sabre products effectively and responsibly

Personal safety skills for smart living
The College Safety Program teaches the following.
Travel Safety

Active Assailant/Active Shooter Response

Situational Awareness/How to be Prepared & Engaged in Emergencies

Basic Self-Defense

How to Use Pepper Gel & Personal Alarms

Sexual Assault Risk Reduction
Mace's training material is limited to a blog and Youtube channel. It's good material and gives helpful answers to several self-defense questions. I'm giving the win to Sabre because of the company's greater focus on self-defense training and education.
Winner: Sabre
I wrote the best article on how to use pepper spray. It will show you How To Use Pepper Spray effectively and legally. Click the underlined text to see that article.
Good Pepper Sprays From Mace and Sabre
Mace and Sabre make very good pepper sprays. I bought several of their pepper sprays and each company gave me other models to test and review. The six pepper sprays at the top are all good options. My reviews of these 6 sprays are below.
Sabre Red Tactical Pepper Spray

Full Disclosure: Sabre gave me this pepper spray at no charge.
The is one of the best pepper spray for belt carry. The belt clip goes on and comes off a belt easily. The safety and trigger work as they should. The surface area of the trigger is enormous. For users with large thumbs or who wear gloves, the large trigger is a huge benefit.
This features the highly visible orange spray that many Sabre pepper sprays have.
The spray canister is replaceable. This allows a user to practice with one canister and replace it. There are included instructions on how to remove the canister. I found the instructions unhelpful. They best way to remove the canister locking device is to pry it out with a butter knife.
Pros
Great Range

Good Belt Clip

High Visibility Orange Spray

Large Trigger Surface

Replaceable Canister
Cons
Difficult to Remove Canister

Only Great for Belt Carry
Conclusion:
If you are definitely going to carry a pepper spray on a belt, then this a great pepper spray for you.
Mace Night Defender

My umbrella light is reflecting off the can
I really like this spray. The light is one of the most practical and over looked features a pepper spray can have.The range is good. The package says it has an 18 foot range. When I tested this, I found it would go the full 18 feet. The light reaches the effective range of the spray. You can see the spray being testing in daytime and nighttime in the video.The spray is transparent. It would be better if it had color. That would make it easier to aim and see it on a target.The safety goes up easy. The trigger has ridges on top. This gives the trigger traction and makes it feel like nothing else on the spray. As a result, it is easy to grab and place a finger on the trigger without looking at it.This spray is on the big size. It might be a tad uncomfortable in a front pocket. Consider off-body carry or getting a holster for it.This is one of my favorite every day carry pepper sprays. I have tested more than 22 pepper sprays and this is a top tier spray.
Pros
Long 18 Foot Range

Bright Light

Wind Fighting Gel
Cons
Conclusion:
This is a great pepper spray for low light self-defense. It's also a good option if you are in a windy area.
Advanced 3 in 1 Compact Pepper Spray with Clip
This is a good little pepper and tear gas spray. The clip makes a belt or pocket good spots to keep it. It has the standard swivel safety that so many pepper sprays have. It's easy to use. 
The clip is strong. It might do minor damage to the back of a belt. It did that to my belt.
The range is 8 to 10 feet. That's the shortest I think an EDC pepper spray should shoot. 
Some people are not affected by the OC pepper spray chemical. With tear gas, there are two powerful chemicals helping someone defend themselves.
There is UV marking die. That's useful for law enforcement. The UV die, tear gas, and OC chemical make this a "3-in-1" pepper spray.
Pros
Tear Gas

Pocket or Belt Attachable

Good Range
Cons
Conclusion:
A good little pepper spray. Most pepper spray this small don't have tear gas. If you value having an extra stopping compound, then is a good spray for you.
Mace Police Model

This is one of the best pepper sprays I have tested. It has tear gas, a good range, great belt clip, and the option to attached to a keychain.
Some people are not affected by the OC pepper spray chemical. With tear gas, there are two powerful chemicals helping someone defend themselves.
The built-in belt clip works perfectly. It has an angled tooth. Here is a picture of the tooth.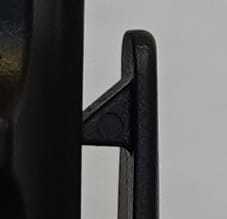 A belt slides through the tooth without effort. Once on a belt, the clip's tooth prevents the spray from coming off the belt. To remove the spray from the belt, it just takes a good firm pull of the spray.
It can be attached to a keychain. This would add a lot of mass to a keychain. You might like this though especially if you aren't wearing this spray on a belt.
It shoots a clear spray. It looks like water. This makes aiming while spraying more difficult than it should be. It also makes it harder to see the spray on an attacker's face. Many other pepper sprays shoot colored spray, and this model should do that too.
Pros
Good Size and Range

Excellent Belt Clip

Tear Gas Included

Keychain Attachable
Cons
Conclusion:
An very good pepper spray for belt carry.
SABRE RED Pepper Gel Spray for Runners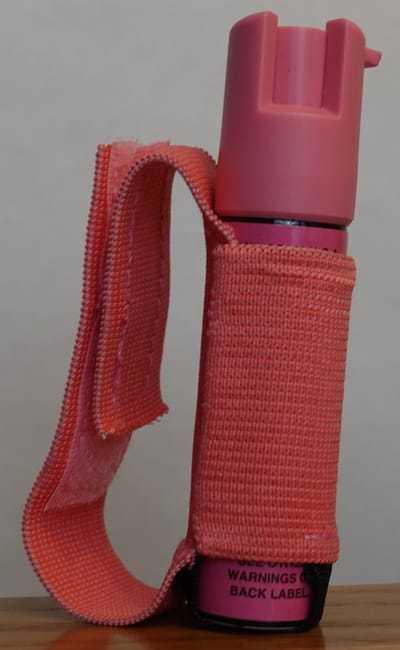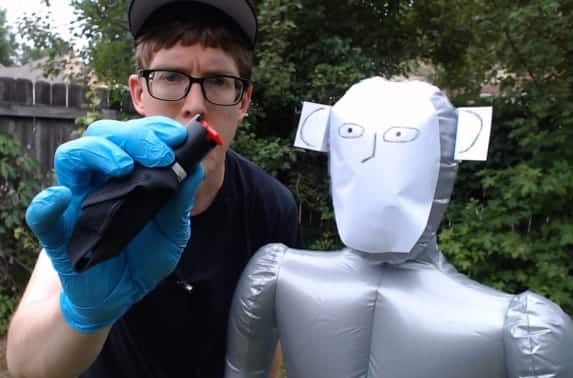 Andrew testing a black one on a dummy
This is a good pepper spray for runners. The wrist holster holds the wrist and spray very good. The velcro and elastic are strong. The wrist strap was not immediately uncomfortable.
The range is 5 to 10 feet. This is a bit short, but it is good enough.
I sprayed a pack of dogs with this model. It worked. The dogs lost all interest in me.
The safety is easy to use and works as it should. If you are OK with a larger spray, then I recommend the mace sport model. It has a longer range and more juice. This spray is also available in black.
Pros
Good Wrist Holster

Decent Range from a Small Spray

Wind Fighting Gel
Cons
Kind of Small

Bigger Wrist Pepper Sprays Exist
Conclusion:
Because I used this pepper spray on dogs, I know it will work on animals and humans. The Mace Sport Model is similar but larger.
Mace Sport Model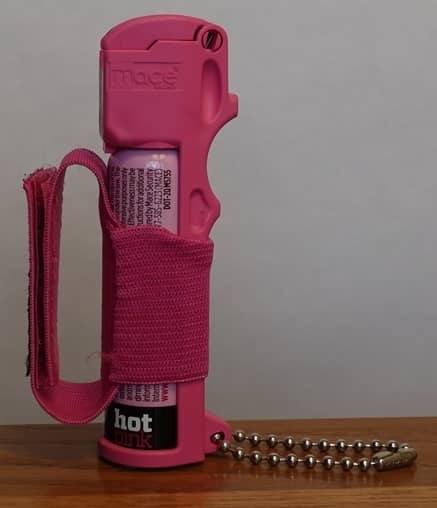 This pepper spray is a good balance between comfort and effectiveness. It has enough juice for at least 2 assailants. You can see the spray getting used in the video. 
The wrist strap is good. It holds a wrist and the spray well. It's not the most comfortable thing, but neither is it uncomfortable. I would feel confident jogging with this for miles. The spray easily comes out of the strap.
The safety is easy to lift. A toddler could lift the safety so keep this spray away from children. It's not child proof.
This spray is also available in black.
Pros
Good Wrist Strap

Good Range
Cons
Big for a wrist pepper spray
Conclusion:
It's an excellent pepper spray for running or other outdoor activity.