I purchased and tested 5 runner's pepper sprays There is good and bad with each of them.
What pepper spray you rely on for your safety is a personal choice. Read this article find out what pepper spray features will serve you best. You can watch me test the sprays in the video below.
Watch the video to see these pepper sprays tested and reviewed.
Runner's Pepper Sprays - Tested and Reviewed
Wrist Saver Pepper Spray with LED Light
This runner or jogger pepper spray has a very comfortable wrist strap. It has more cushion and surface area than other wrist straps. I like the strap more than any other wrist strap for pepper spray. 
There is a small light in the strap. It's bright enough to tie shoes. The light is too weak to be useful in a self-defense situation.
The range is not huge. It's about 3 to 6 feet. If you can carry a larger pepper spray, then consider it. A larger can will have a longer range. The Mace Sport Model is a good, larger pepper spray.
Pros
Comfortable Wrist Holster

LED Light
Cons
Conclusion:
It's good spray. If you run low light or no light, then the light will helpful. It's better to carry a larger spray if you can.
SABRE RED Pepper Gel for Runners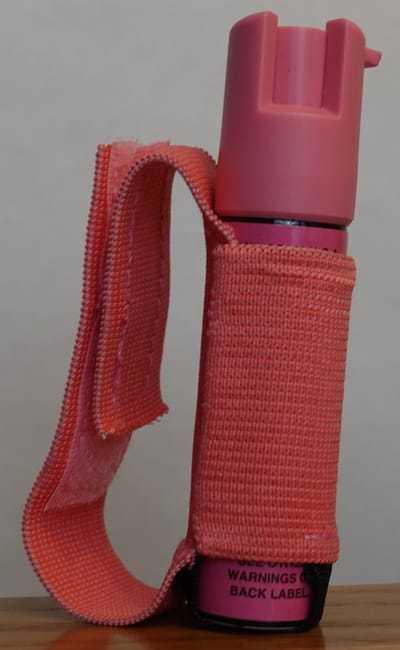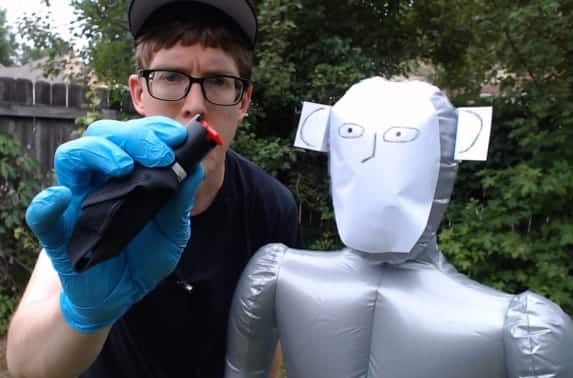 Andrew testing a black one on a dummy
This is a good pepper spray for runners. The wrist holster holds the wrist and spray very good. The velcro and elastic are strong. The wrist strap was not immediately uncomfortable.
The range is 5 to 10 feet. This is a bit short, but it is good enough.
I sprayed a pack of dogs with this model. It worked. The dogs lost all interest in me.
The safety is easy to use and works as it should. If you are OK with a larger spray, then I recommend the mace sport model. It has a longer range and more juice. This spray is also available in black.
Pros
Good Wrist Holster

Decent Range from a Small Spray

Wind Fighting Gel
Cons
Kind of Small

Bigger Wrist Pepper Sprays Exist
Conclusion:
Because I used this pepper spray on dogs, I know it will work on animals and humans. The Mace Sport Model is similar but larger and better.
Pepper Spray Bracelet by Little Viper
This is a small and comfortable wrist pepper spray. The band is made of soft plastic. I don't have anything else that feels like it. It's a kind of soft plastic a doll might be made of.
This has to be shot while attached to the wrist. This is cumbersome. I recommend bringing the spray and the wrist up to the eyes when aiming. This will make shooting more accurate.
It has a short range of 3 to 5 feet. I recommend using a larger pepper spray for more range. The Mace "Sport Model" is much more effective pepper spray.
Pros
Cons
Super Short Range

Awkward Aiming
Conclusion:
A good spray for anyone who must have a tiny wrist pepper spray. I can see someone with wrist problems liking this spray a lot.
Guard Dog Instafire Xtreme with Knuckle Defense
This runner pepper spray takes a different approach than the other 4 sprays. Instead of wrist holster, there is a knuckle enforced hand sleeve. The spray sits in the palm of the hand sleeve. With the spray in the palm, this should be the fastest into action spray on the list.
The hand sleeve is comfortable enough. I don't know if jogging or running with anything on a hand can truly be comfortable because of sweat. It has some knuckle padding. This will help prevent knuckle cuts when punching.
There is enough juice in the can for at least 2 assailants. The spray pattern is a baseball size cone. The range is 5 to 8 feet realistically. You can see the spray getting used in the video. 
Be careful when placing the spray in the hand sleeve. When I did, the safety started to move off safe. Since putting it in the sleeve requires pushing down, I almost fired it. Putting it in the sleeve requires pushing straight down with the safety on.
Pros
In Hand Carry

Knuckle Protection

Comfortable
Cons
Conclusion:
Super fast deployment and knuckle protection are the main features.
Mace Sport Model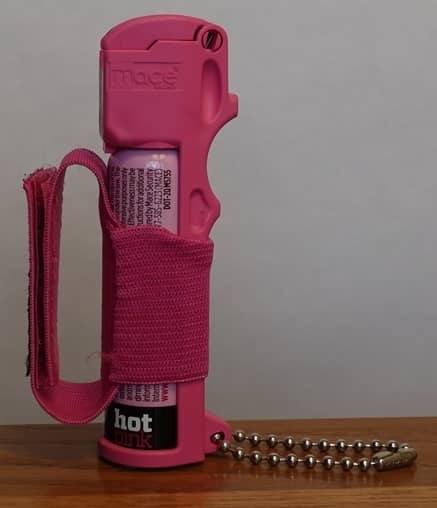 This pepper spray is a good balance between comfort and effectiveness. It has enough juice for at least 2 assailants. You can see the spray getting used in the video.
The wrist strap is good. It holds a wrist and the spray well. It's not the most comfortable thing, but neither is it uncomfortable. I would feel confident jogging with this for miles. The spray easily comes out of the strap.
The safety is easy to lift. A toddler could lift the safety so keep this spray away from children. It's not child proof.
This spray is part of Mace's "empower" brand of products. Mace donates some of the purchase price of this spray to domestic violence awareness and prevention.
Pros
Good Wrist Holster

Good Range

Donation for Domestic Violence Prevention
Cons
Big for a wrist pepper spray
Conclusion:
It's an excellent pepper spray for runners. It has the most spray and longest range.
Pepper Spray FAQ
Why Carry Pepper Spray?
There are many reasons to carry pepper spray.
One of the most important is that it's non-lethal. Most self-defense situations involve non-deadly force aggression. As a result, a non-deadly force self-defense tool is more frequently needed than a deadly force tool.
It's a crime to use deadly force on an attacker who is using non-deadly force.
How to Use Pepper Spray?
There are two things to always do when using pepper sprays.
Pepper spray should be sprayed at one ear and to the other with a continuous stream. This will get the spray in an attacker's eyes and noise. The result will be involuntary eyelid closure and painful breathing.
Also, vertical, canister type pepper sprays should be shot using the thumb. This will insure a strong grip with 4 fingers grasping the canister. Shooting with the index finger will result in only 3 fingers gripping the can. The picture below shows the right and wrong way to hold.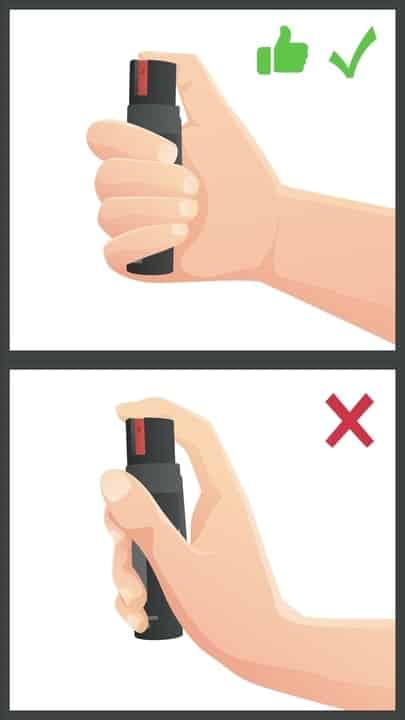 To learn more about how to use pepper spray, click the underlined text.
Does Pepper Spray Expire?
Yes, pepper sprays lose their effectiveness over time. They are always leaking pressure. After the expiration date, a pepper spray might not effectively shoot it's contents. To be super safe, you can replace your pepper spray a year before expiration.
Can Minors Carry Pepper Spray?
In many jurisdictions, it is legal for people under 18 to possess and use pepper spray for self-defense. For example, California permits 16 year olds to carry pepper spray in public. It is often illegal for minors to purchase pepper spray.
What's the Difference Between Mace and Pepper Spray?
Mace is a company that makes pepper sprays. Just like the word "Xerox" was used to refer to copying documents, some people use "Mace" to refer to pepper spray.