I've been shooting my Walther P22 for more than 10 years. It's super fun getting lots of low cost shooting with this pistol. I ran it stock for a long time, but I now enjoy shooting my P22 with several upgrades and accessories.
I own all of the things in this list except for the P22 Talon grips. I have Talon grips on other pistols and I know they are a good upgrade.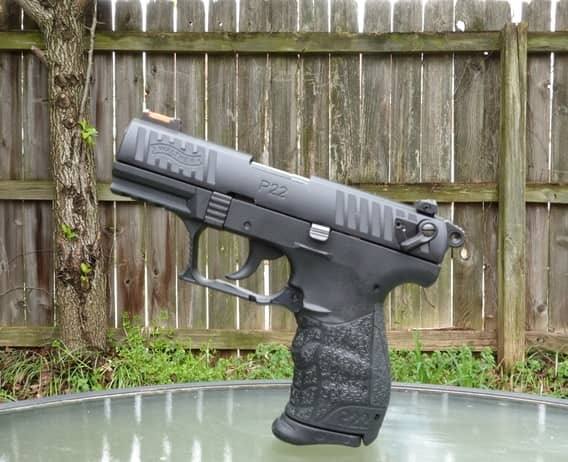 Hiviz Light Pipe Front Sight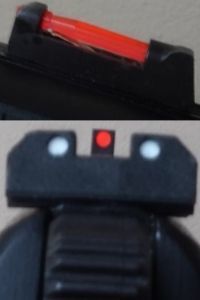 This front sight is a big improvement over the factory white dot front sight. With the rear sights also having white dots, a color other than white on the front sight helps me focus on the front sight. The front sight pipes are replaceable. Hiviz includes 3 green light pipes, 2 red light pipes, and a solid white pipe. I like the red light pipe the most. I think the red pipe provides the most contrast against the rear sight dots, and the black color of the front sight base. Also, a red front sight in an all black pistol makes my P22 look all dark side and sith lord.
Getting the screw tightened was a bit difficult. The screw is under the slide arch the barrel sits in. Because of this, it's difficult to get a good seat for the wrench on the screw head. However, with persistence I was able to get the screw in tight.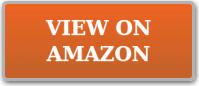 IWB Leather Holster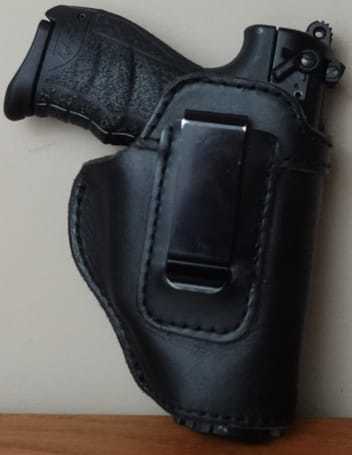 This leather holster has served me well. I used to use it to IWB concealed carry my EDC pistol. I still use it with my P22 for concealed carry drills.
The belt clip is made of thick metal. It does a good job keeping the holster on a belt and restricting holster movement.
The leather is thick. It's 1/8 of an inch at the thin section that covers the trigger. The stitching is still going strong. My holster's stitching has no cut or loose threads.
A left-handed version is available.
You can watch my video review of the holster with the video below.
Low Cost IWB Holster Review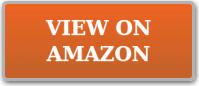 Worktunes Earmuff Hearing Protection by 3M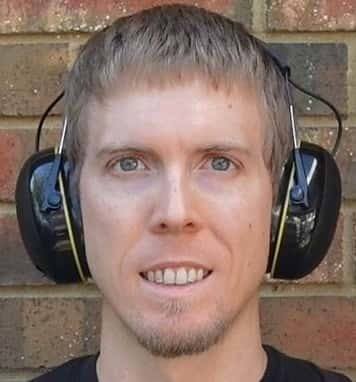 This is my favorite set of hearing protection. I bluetooth it to my phone and listen to music when I am shooting. The headband and ear cups are comfortable. I can wear these earmuffs all day. The battery lasts several hours. It recharges with USB.
The NRR(Noise Reduction Rating) is 24. That's a bit low for shooting centerfire cartridges like 9mm and 556. I recommend using ear plug and these earmuffs together when shooting anything more powerful than 22LR.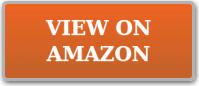 Talon Grips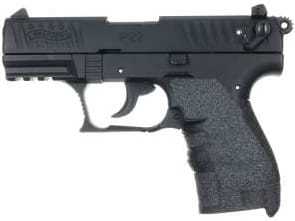 There is nothing wrong with the Walther P22 grip from the factory, but anything can be improved. Talon grips provide a large increase in traction over the factory grip texture. Granulated and rubber are the texture types. The granulated texture is the most aggressive and I like it a lot. It feels like sandpaper or skateboard tape. The granulated texture can be rough on skin when it's on a concealed carry pistol. The P22 is likely not your EDC pistol so you don't need to worry about the granulated texturewearing out your belly skin.
The rubber texture is best if your carry pistol's grip makes direct contact with skin. Also, shooters with soft skin should use the less abrasive rubber texture.
Talon Grips eventually wear off. As they wear, they just expose more of the pistol grip underneath. Kind of like how a broken escalator becomes stairs. Pistols remains perfectly usable as Talon Grips fall off.
They are made in America with a 90 day warranty.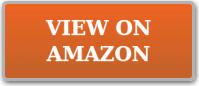 Raiseek Molle Double Magazine Pouch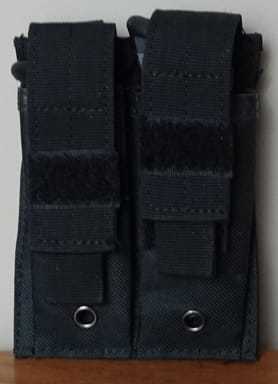 This is my plinking and training double magazine pouch. It's a low cost and highly functional magazine carrier. Strong velcro holds the cover flaps down. As the image shows, it will hold the factory 10 round magazines and magazines with Tandem Kross' +5 magazine extension. Also, it works great with single and double stack 9mm magazines. This pouch does a good job holding my CZ P 10C magazines.
There is a drain hole near the bottom of the pouches to allow water flow through. Included caliber labels can be attached to the cover flaps. The included labels are 9mm, .40, and .45 ACP.
I would not go to war with this pouch, but it's fantastic for recreational shooting.
My video review of the pouch is below.
Double Magazine Pouch Review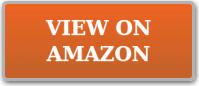 WINGMAN +5 Magazine Bumper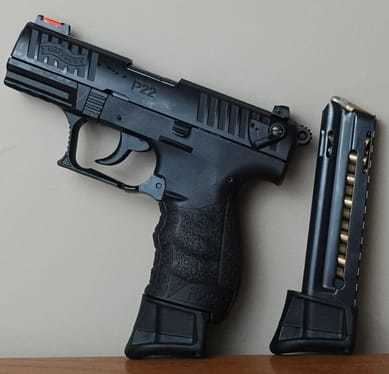 The P22 magazines come from the factory as 10 round single stacks. This is a weak spot for the P22 as a training pistol because centerfire EDC pistols often have double stack magazines that hold much more than 10 rounds.
Tandem Kross offers +5 magazine extensions that give the P22 a very nice 5 round boost in magazine capacity. The kit includes two bumpers and two new springs. These extensions have worked great for me.
Installation is straight forward and Tandem Kross has a video showing to do it. After installation, I found that I needed to force the follower all the way down to the bottom. By doing this with a screw driver, I was able to train the new springs to accept 15 rounds.
You can watch me shoot my Walther P22 with this magazine extension by watching the video below.
Walther P22 +5 Magazine Extensions #Shorts
Sparrow 22 Suppressor from SilencerCo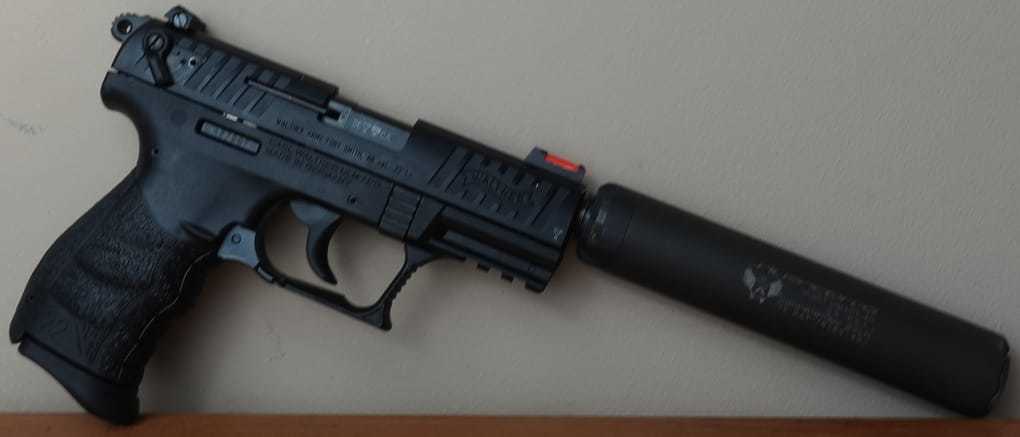 The Walther P22's muzzle screws off to allow for a threaded barrel adapter. With the adapter on, a suppressor can be attached. Suppressors take shooting 22LR to the next level. The Sparrow 22 makes shooting my P22 pleasant to shoot without hearing protection. It's 100% hearing safe to shoot a suppressed P22 without hearing protection. With subsonic ammunition, the P22 will be as quiet as a pellet gun. My Sparrow 22 suppressor has been shot thousands of times and it still works great.
The Sparrow 22 is by design super easy to disassemble and clean. This a big deal because 22LR is a dirty round and it puts a lot of debris in suppressors. Disassembly is done by unscrewing the back cap from the outer tube and removing the outer tube from the half tubes. The half tubes separate from the monolithic baffle core. The baffles and the half tubes can be cleaned with any popular de-leading product. The half tube are easy to clean and they receive most of the debris buildup.