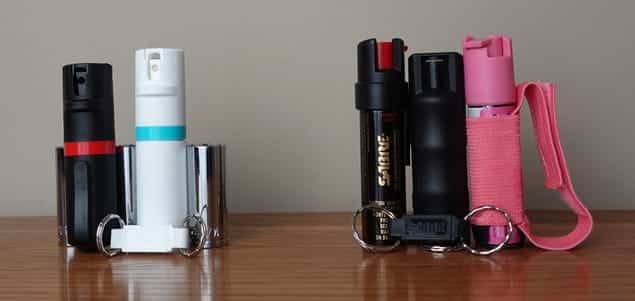 I tested several POM and Sabre pepper sprays. Using a sheet of paper and a dummy head, I learned about the range, spray pattern, and spray color. This is what I learned about POM and Sabre pepper sprays.
POM and Sabre make good pepper sprays. POM's flip-top safety, emphasis on style, and health consideration make them a unique and competitive option. Sabre has a large variety of peppers to meet the needs of most consumers.
Two Very Different Companies
SABRE is a very large company. It sells several types of products including pepper spray. POM Industries is a small business. To make a good comparison, I'll compare similar pepper sprays that each company offers.
Comparing Similar Pepper Sprays
Sabre makes several types and sizes of pepper spray. Sabre makes some pepper sprays that are much larger than POM sprays. It would be unhelpful to compare very differently sized pepper sprays.
POM makes 3 pepper sprays that are the same size. These POM sprays only differ in their style of carry. For example, one POM pepper spray has a quick-release key chain attachment and another has a clip for pocket carry.
Sabre makes 3 pepper sprays that are similar in size to the POM sprays. I'll compare these 3 Sabre sprays to POM pepper sprays for a meaningful comparison. These are the pepper spray at the top and listed below.
POM with Clip
POM with Quick Release
Sabre Red with Quick Release
Sabre Advanced 3-in-1 Tear Gas
Sabre Red Pepper Gel for Runners
Range and Stopping Power
The shooting range of a pepper spray is super important. Range puts distance between a defender and attacker. Some pepper sprays shoot so short that they put a defender within arms reach. That's a big problem. An attacker who is blinded by pepper spray can still run toward and grab at the last place he say his victim.
The POM and Sabre pepper sprays I am comparing both have a 10 foot range. That's enough distance to hit the target and get away.
Sabre and the similar POM pepper sprays have plenty of oleoresin capsicum(OC). Sabre's claim to fame is it's HPLC lab for testing each batch of spray liquid. In short, this testing is meant to prevent bad patches of OC liquid from being used and sold. This all sound good, but I have a hard time believing other pepper spray makers would use unreliable spray liquids.
The Sabre Advanced 3-in-1 includes CS tear gas. Tear gas has similar effects to OC including impaired vision and excess mucus. Why include a 2nd chemical? Some people are not effected by OC and adding CS tear gas provides a 2nd chemical attempt to stop a target. Even so, the odds of a defender's life depending on having OC and CS is very low.
In summary, if a defender hits the target in the eyes and nose all of these pepper sprays will probably work.
Winner: Tie
Ease of Use
Sabre likes to put swivel safeties on it's sprays. Swivel safeties work and they are easy to use. However, they are easy to accidentally deactivate. I have deactivate swivel safeties by mistake and a friend returned a borrowed Sabre safety with the safety off.
POM pepper sprays have a flip top safety. It's even easier to use than a swivel safety. More importantly, these flip top safeties won't accidentally get turned off.
It's super important to use pepper spray the right way. To learn how to use to use pepper spray effectively and legally, click the underlined text.
Winner: POM
Availability
All of these pepper sprays are available on Amazon, Ebay, and the company web stores. However, Sabre pepper sprays can be purchased at local Walmarts and Walmart online. This gives Sabre an edge with availability. If you want a pepper spray in a hurry you can find a Sabre spray in the sporting good section. I have bought pepper sprays this way and it's as easy as buying alcohol. My ID was looked at before I could make the purchase. I looks like Walmart won't sell to minors, but I could not find a specific policy
Winner: Sabre
Health Considerations
It should be noted that there is nothing unhealthy about Sabre's pepper sprays. Having said this, POM goes above and beyond for the health conscience.
The plastic POM uses is an FDA approved polymer. It's free of lead, toxins, and other harmful chemicals.
POM's spray formula is clear and water based. It's refined to remove unneeded residual color and impurities.
I like that POM considered the health conscience consumer. Personally, I am willing to pay a little more for products that might be slightly better for my health.
An organic certification is the only way POM could improve in this area.
Winner: POM
Everyday Carry
All 5 pepper sprays are good everyday carry options. Which one you should get depends on what you need most in a pepper spray.
I have carried with POM with the clip and I like it. The Sabre pepper gel is the best option for those living in windy areas. The gel will fight the wind better than the other 4 because they shoot a liquid stream.
You get see more good everyday carry pepper sprays by clicking the underlined text.
Winner: Tie
Running or Jogging
All 5 pepper sprays could be carried in a pocket while running. It's possible that the Sabre swivel safeties will deactivate while flopping around on a run. However, even with the safety off, the flopping around probably won't be enough to push the trigger down.
The POM spray with the clip is the best pepper spray of the 5 for pocket carry. I have pocket carried this spray a lot and the clip works great. The clip's tightness prevents the spray from moving. The clip also keeps the spray near the top of the pocket for easy access.
Sabre's pepper gel for runners comes with a wrist holster. The wrist holster solves the problems and inconvenience of having a pepper spray in a pocket.
You can see more good runner's pepper sprays by clicking the underlined text.
Winner: Tie
Reviewing These 5 Pepper Sprays
I review all 5 of these pepper sprays below. I'll only do one review for the POM pepper sprays. Because the only difference is the clip or quick release, I'll just combine 2 reviews into 1.
POM Pepper Spray with Clip or Quick Release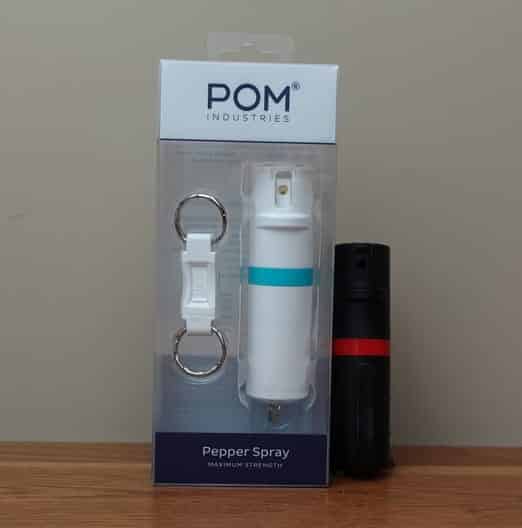 Full Disclosure: POM gave me these pepper sprays at no charge.
POM pepper sprays have two unique features. The flip top safety is one of them. Smallish pepper sprays like the ones from POM usually have swivel safeties. When using pepper sprays with a swivel safety, I learned they tend to come off safe accidentally. I let a friend borrow a swivel safety pepper spray, and he returned it to me with the safety off. However, flip top safeties don't have this problem.
The other feature is the emphasis on style, and personalizing. POM Pepper sprays are available in white, grey, and black with several choices of colored ring. If you are the type of person who wants everything to match your style, then POM pepper sprays are the self-defense tool for you.
When I tested this, it shot the 10-12 feet the packages says it will go.
The clip is excellent. It's very tight and it holds my jean pocket perfectly.
The keychain quick-release is not as good as the Smart pepper's magnet quick-release. It's a plastic locking quick-release design. It does work, but it requires two hands to use. I hope POM upgrades to a magnetic quick-release in the future.
Pros
Great Safety
Good Range
Stylish
Nice Tight Clip
Cons
A bit expensive for it's size
Conclusion:
If you care about matching your pepper spray with your style, then there is no better pepper spray for you.
Advanced 3-in-1 Compact Pepper Spray with Clip
This is a good little pepper and tear gas spray. The clip makes a belt or pocket good spots to keep it. It has the standard swivel safety that so many pepper sprays have. It's easy to use. 
The clip is strong. It might do minor damage to the back of a belt. It did that to my belt.
The range is 8 to 10 feet. That's the shortest I think an EDC pepper spray should shoot. 
Some people are not affected by the OC pepper spray chemical. With tear gas, there are two powerful chemicals helping someone defend themselves.
There is UV marking die. That's useful for law enforcement. The UV die, tear gas, and OC chemical make this a "3 in-1" pepper spray.
Pros
Tear Gas
Pocket or Belt Attachable
Good Range
Cons
Kind of Small
Clip might damage a belt
Conclusion:
A good little pepper spray. Most pepper spray this small don't have tear gas. If you value having an extra stopping compound, then is a good spray for you.
Pepper Gel Spray for Runners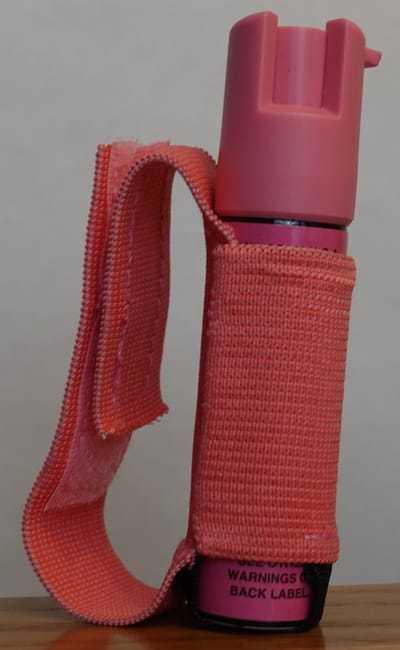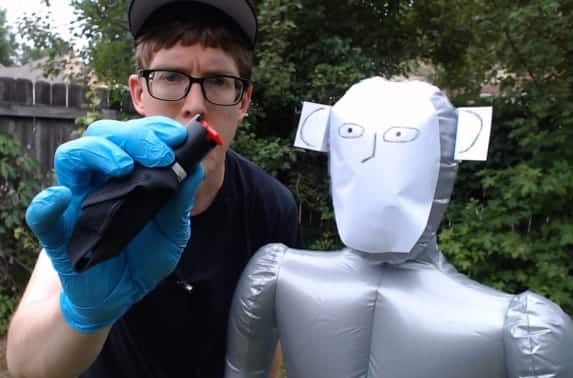 Andrew testing a black one on a dummy
This is a good pepper spray for runners. The wrist holster holds the wrist and spray very good. The velcro and elastic are strong. The wrist strap was not immediately uncomfortable.
The range is 5 to 10 feet. This is a bit short, but it is good enough.
I sprayed a pack of dogs with this model. It worked. The dogs lost all interest in me.
The safety is easy to use and works as it should. If you are OK with a larger spray, then I recommend the mace sport model. It has a longer range and more juice. This spray is also available in black.
Pros
Good Wrist Holster
Decent Range for a Small Spray
Wind Fighting Gel
Cons
Kind of Small
There are bigger wrist pepper sprays
Conclusion:
Because I used this pepper spray on dogs, I know it will work on animals and humans. The Mace Sport Model is similar but larger and better.
Keychain Pepper Spray with Quick Release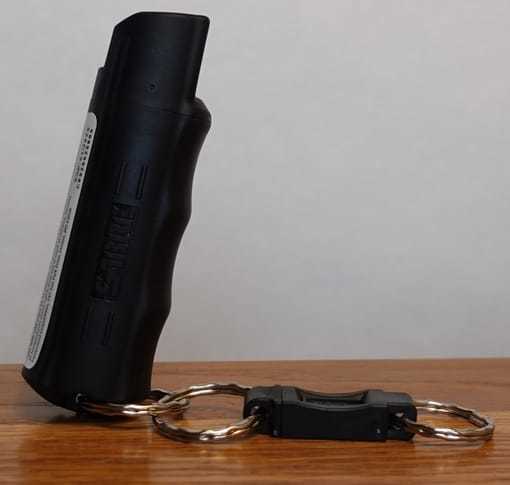 It feels good in hand. It has finger grooves. I've used pepper sprays without finger grooves and they work just fine. Having said that, these finger grooves work and they are not in the way. 
The range is 8 to 10 feet. That's good enough for every day carry.
The keychain attachment is good. It has a release button. Pushing the button and pulling on the spray will release it.
The safety and trigger work as they should. They both have some resistance, but will move for any adult.
It shoots an orange spray. That color helps with aiming and seeing the spray on a target.
Pros
Decent Range
Orange Spray
Quick Release Keychain Attachment 
Cons
Conclusion:
If you must keep a pepper spray on a keychain, then this is a great pepper spray for you.